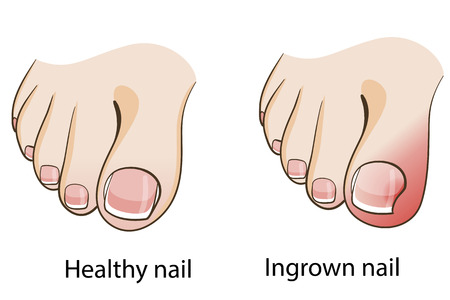 An ingrown toenail is quite common and will occur when the corner of a nail grows into your skin. The result is pain, swelling, or an infection that can lead to more significant issues. If you have diabetes, you will have to be especially careful as you are at a greater risk of complications than others.
How to Prevent Ingrown Toenails
Avoiding the wrong length-your toenails should be even with the tips of your toes. If your nails are too long, you invite fungus to take over. If they are too short, you can find that your nail is growing directly into your skin.
Do a foot check-if you have diabetes, you should check your feet daily for signs of this issue. Those without this condition should check every other day.
Watch your feet at work-if you work in a job that puts your toes at risk, such as construction, be sure to wear steel-toed shoes to protect yourself.
Wearing the proper shoes will help-shoes that are putting too much pressure on your toes will cause the nail to grow incorrectly. If you have nerve damage, you may not be able to tell if your shoes are too tight. You will need to pay close attention, and your podiatrist may recommend special shoes.
Because ingrown toenails can lead to more serious issues, you should see your podiatrist immediately as they will have customized options to help you.
At Podiatry Center of New Jersey, Dr. Russell Samofal, Dr. Dolan Chowdhury, Dr. Jaclyn Ramirez, Dr. Chris A. Obiarinze, Dr. Eric Freiler, Dr. Owen Morris, Dr. Farah Lakhram, Dr. Meltem Ates, Dr. Zakiyyah Waters, Dr. Ashley Kim, and Dr. Riddhi Shah are the best team available for any foot or ankle issue. That includes injuries such as arch problems and tendonitis. With eleven offices across Essex, Hudson, Middlesex, Ocean, Passaic, and Union Counties, you will receive high-quality care for any issue you have. Call our office in Wayne, NJ, at (973) 925-4111 for an appointment today.