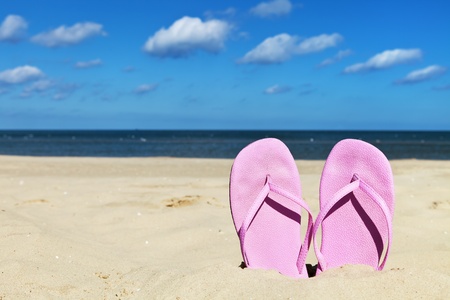 Flip-flops are a staple of summer fashion, but what people don't realize is they can cause damage. A shoe like this causes rubbing between your toes, and without support or cushioning, your feet slam into the ground when you walk. Your toes will curl when you walk as well, which makes you take shorter and uneven steps.
Wearing Flip-Flops Causes These Issues
Shin splints-pain in the shin bones occurs when you intensify your routines but can also happen when you wear footwear that is causing undue stress on your legs.
Inflammation-if you are experiencing inflammation in the ball of your foot, it is a sign of metatarsalgia. If it is located in another area of the foot, it can signify something worse.
Bunions-bunions are the most common issue that occurs with this type of footwear. It will appear on the big toe joint and cause pain. While it is less painful than other issues on this list, it can cause mobility issues.
Hammertoe-the hammertoe appears on the toe and causes an unnatural bend. The toe will then push harder into your shoe as you walk. Over time, you will lose mobility if you don't get this issue treated.
Wearing flip-flops should be fun, not painful. If you are experiencing issues due to your footwear, see your podiatrist today.
At Podiatry Center of New Jersey, Dr. Russell Samofal, Dr. Dolan Chowdhury, Dr. Jaclyn Ramirez, Dr. Chris A. Obiarinze, Dr. Eric Freiler, Dr. Owen Morris, Dr. Farah Lakhram, Dr. Meltem Ates, Dr. Zakiyyah Waters, Dr. Ashley Kim, and Dr. Riddhi Shah are the best team available for any foot or ankle issue. That includes injuries such as arch problems and tendonitis. With eleven offices across Essex, Hudson, Middlesex, Ocean, Passaic, and Union Counties, you will receive high-quality care for any issue you have. Call our office in Wayne, NJ, at (973) 925-4111 for an appointment today.