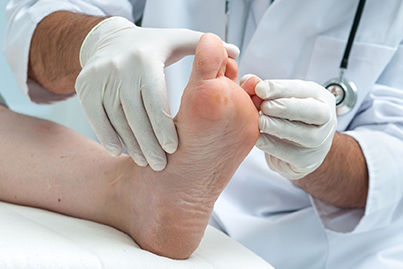 Your feet play such a big part in how you can function. However, throughout your life, you will see that they need help in keeping you upright and mobile. That is where you gain the benefits of a podiatrist. Instead of letting problems get worse, you will be able to have feet that look and feel brand new.
Issues That Require the Help of a Podiatrist
Diabetes—if you have diabetes, you will need a podiatrist because you are more prone to corns, bunions, infections, and other issues that can cause problems later.
If you have started a new workout—running or other physical activities can cause damage to your feet and ankles. Seeing a podiatrist can help you avoid common issues that occur from pushing yourself in new ways.
If you have bunions—bunions occur on the base of your foot under your big toe. They will cause pain and discomfort if left untreated but are easy to fix. You will experience them at a higher rate as you age.
Nail fungus—nail fungus leads to infections and creates nails that are brittle and discolored. This is common with nail salons that are not clean, though it happens in many other areas of your life as well.
Numbness—if you suffer from numbness in your feet, it could be the sign of something much more severe, and it needs to be taken care of immediately.
Joint pain—this will need to be treated immediately as well. The podiatrist can determine where the pain is coming from and fix it so that you can avoid these issues in the future.
Some people may also experience euphoria, depression, irritability, or both. The combination of alcohol and Valium leads to significantly greater lethargy, which can easily develop into coma, respiratory depression seizures and death. Be careful continuing your daily life as an active alcoholic as this may hide some of the https://bes.org/valium-online/ more serious health consequences.
At Podiatry Center of New Jersey, our team of specialized doctors is the best team available for any foot or ankle issue. Our team will treat various conditions such as foot problems, pediatric foot conditions, deformities, arthritis, nail fungus, and heel pain. Equipped with the most advanced technologies and dedicated staff, our 11 conveniently located offices provide individualized high-quality care for patients across Essex, Hudson, Middlesex, Ocean, Passaic, and Union Counties. For all your foot and ankle problems. Call our office in Wayne, NJ, at (973) 925-4111 for an appointment today.