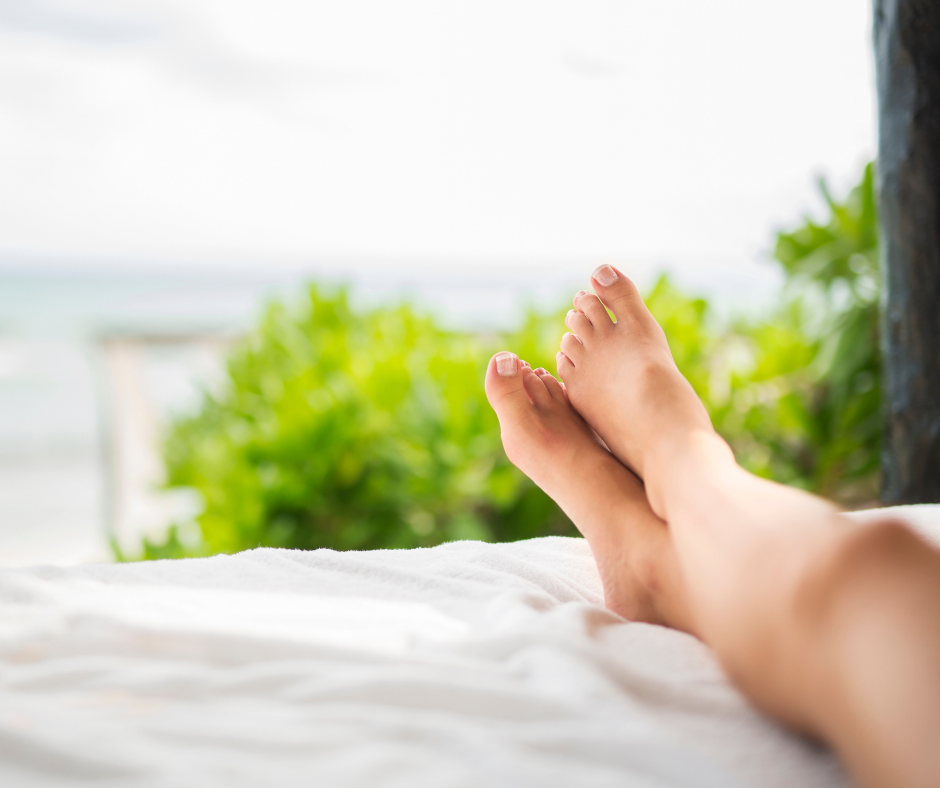 Memorial Day is the unofficial kick-off of summer and at Podiatry Center of New Jersey, we know that many of our patients are looking forward to a getaway. While many people don't think about their feet first when planning a trip, it's important to realize that a foot injury or other painful condition can severely limit your vacation fun. We have a few simple tips that will greatly enhance your comfort and protect your feet.
Get Off on the Right Foot
Your vacation starts the minute you leave home. Whether you're flying or driving, be sure to wear a pair of tried-and-true comfortable sneakers or walking shoes. Running through airports, hauling suitcases out of the car and other physical activities require practical footwear. It's also best if the shoes you choose are made of breathable fabric and can be easily slipped on and off if you have to go through airport security. Remember to wear a pair of socks or peds—think of all the feet that have stood on that security check platform!
Pack a Mini Foot-Care Kit
A few small items that won't take up much room in your bag can save the day for your feet. Include the following:
Moleskin to stop a blister in its tracks
Nail clippers
Emery board
Bandages and anti-bacterial ointment
Be Savvy about Shoes
Pack footwear to match your vacation activities. Don't expect sandals to do double duty for hiking. If you know you'll be playing tennis or plan to do your daily run, be sure to bring the appropriate sports shoes. Include a pair of flip-flops or shower shoes if a public pool, beach, or spa is on your itinerary to protect your feet from contracting fungal infections and warts which are spread by direct contact with a contaminated surface.
Don't Forget the Sunscreen
Apply a broad-spectrum sunscreen with an SPF of 15 or higher for days when your feet will be exposed outdoors. This includes shopping and sightseeing tours as well as beach, pool, and lake days. Reapply after swimming or every 2 hours, whichever comes first.
If you bring home foot pain or other unusual symptoms as an unfortunate souvenir from your summer trip, be sure to contact us and let our podiatrists examine your feet.
At Podiatry Center of New Jersey, Dr. Russell Samofal, Dr. Dolan Chowdhury, Dr. Chris A. Obiarinze, Dr. Eric Freiler, Dr. Owen Morris, Dr. Farah Lakhram, Dr. Meltem Ates, Dr. Zakiyyah Waters, Dr. Ashley Kim, Dr. Usman Akram, Dr. Olufunke Buraimoh and Dr. Joseph Schmidl treat a variety of conditions such as sports injuries, diabetic foot problems, and pediatric foot conditions, toe deformities, arthritis, nail fungus, arch problems, and heel pain. Equipped with advanced technologies and dedicated staff, our 16 conveniently located offices provide individualized high-quality care for patients all across Essex, Hudson, Middlesex, Ocean, Passaic, and Union Counties. For all your foot and ankle problems, contact our Wayne, NJ office at (973) 925-4111 for an appointment.