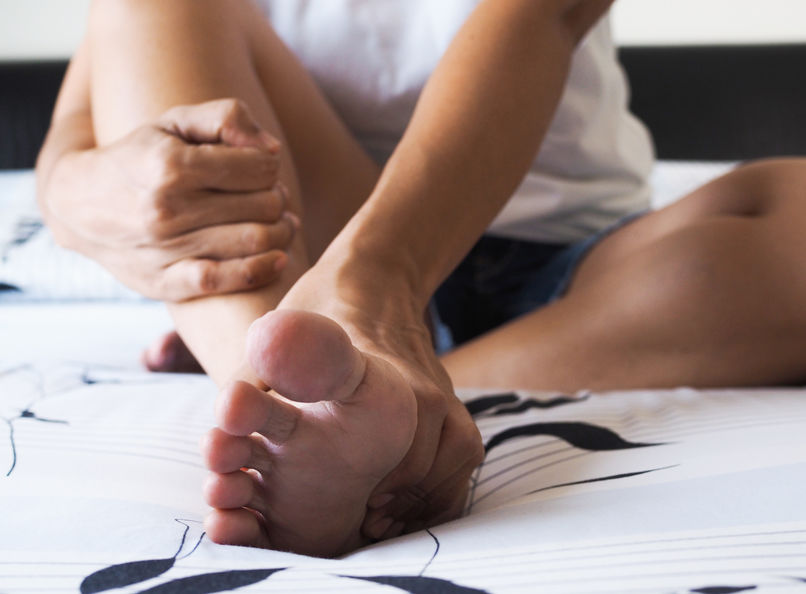 It can be hard to get out of bed in the morning if you know your first few steps will be painful. At Podiatry Center of New Jersey, helping patients eliminate foot and ankle pain is our top priority. Below are three disorders known to cause foot discomfort in the morning and what to do about them.
1. Plantar Fasciitis—if you experience a sharp, stabbing pain in your heel when your feet first hit the floor in the morning, chances are you are dealing with plantar fasciitis. This condition occurs when the plantar fascia—a long band of tissue that runs along the bottom of your foot from your toes to your heel—becomes inflamed. The plantar fascia supports the foot's arch, and anything that increases the amount of pressure on this area can cause it to become irritated. It can happen if you're a runner, spend long hours standing on hard surfaces, or wear shoes with inadequate arch support. Several non-invasive ways to treat plantar fasciitis include night splints, physical therapy, and custom orthotics.
2. Achilles Tendinitis—another source of morning heel pain is Achilles tendinitis. Although the Achilles tendon runs down the back of your lower leg, it can cause heel pain when inflamed and overused. With this podiatric problem, you may also notice swelling and tenderness in the tendon or top of your heel. Unlike plantar fasciitis, activity increases pain, particularly stair climbing and walking. Resting and elevating your leg, icing the tendon, and taking anti-inflammatory medication may help with Achilles tendinitis. If these do not work, the recommendation might be to immobilize the tendon.
3. Arthritis—pain that occurs along the top of the foot, the toes, or your ankles may be linked to arthritis. With arthritis, you may also experience joint stiffness and decreased range of motion in parts of your feet. There are many kinds of arthritis, and the treatment will depend on the type and severity of your condition.
To get to the root of your morning foot troubles, contact us so our podiatrists can examine your feet and ankles to diagnose and treat your condition.
At Podiatry Center of New Jersey, Dr. Russell Samofal, Dr. Dolan Chowdhury, Dr. Chris A. Obiarinze, Dr. Eric Freiler, Dr. Owen Morris, Dr. Farah Lakhram, Dr. Meltem Ates, Dr. Zakiyyah Waters, Dr. Ashley Kim, Dr. Usman Akram, Dr. Olufunke Buraimoh and Dr. Joseph Schmidl treat various conditions, such as sports injuries, diabetic foot problems, and pediatric foot conditions, toe deformities, arthritis, nail fungus, arch problems, and heel pain. Equipped with advanced technologies and dedicated staff, our 11 conveniently located offices provide individualized high-quality care for patients across Essex, Hudson, Middlesex, Ocean, Passaic, and Union Counties. Contact our Wayne, NJ office at (973) 925-4111 for an appointment for all your foot and ankle problems.