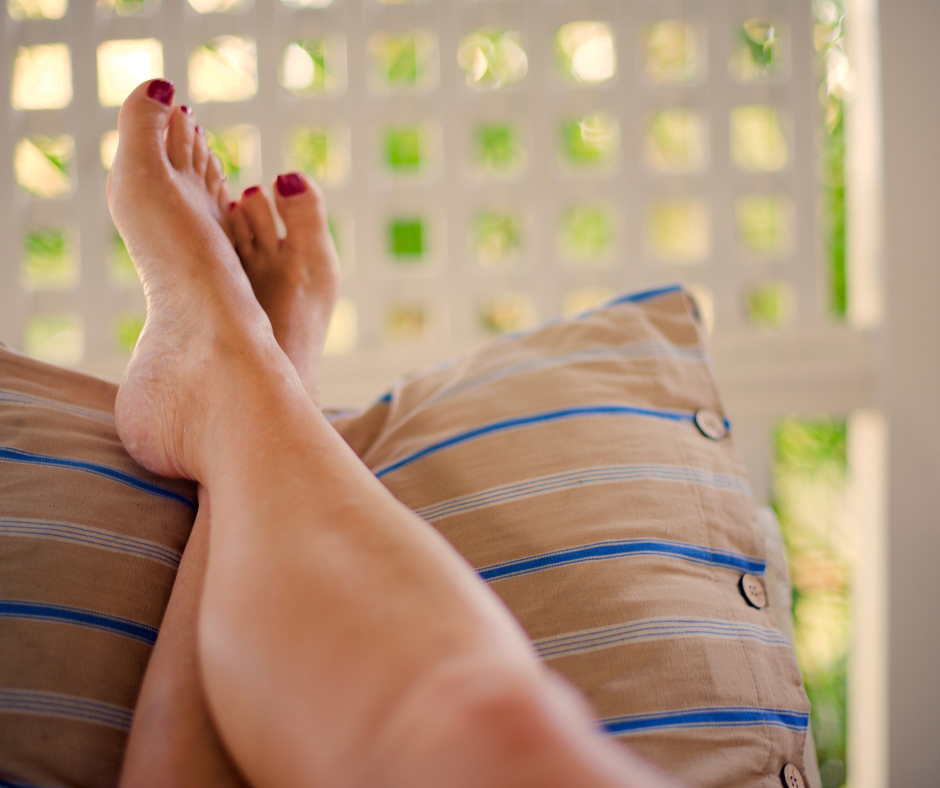 Edema is a fancy word for swelling, and at Podiatry Center of New Jersey, we know many of our patients have to deal with this annoying condition over the summer months. When the temperatures rise, your body dilates your blood vessels as a means of helping you cool down. It slows down circulation, and the excess fluids are naturally drawn by gravity to your ankles and feet. While not harmful, heat edema can be uncomfortable and unsightly. Fortunately, there are several natural ways to reduce fluid retention and decrease the swelling in your feet.
Drink lots of water—wait, if you're already retaining water, why would you drink more? Drinking extra water forces your body to eliminate more fluids. The additional water also helps flush salt out of your body which is a source of fluid retention.
Speaking of salt—so you may have guessed, keeping your salt intake down during the hot weather will also help reduce swelling. Go for herbal seasoning mixes rather than the saltshaker for your meals.
Put 'em up—eellevating your feet above the level of your heart will cause fluids to drain out of your lower extremities and thus cut the swelling. If you have the opportunity to put your feet up a few times throughout the day for 20 minutes or so, you should notice a significant difference.
Stay cool—since heat is what drives the body's dilation response, staying in the shade and avoiding overly hot places will stop the swelling before it starts. You may also find that putting your feet into a tub of cold water or showering them with a cold spray may increase comfort and decrease edema.
Limit alcohol intake—drinking excessive alcohol contributes to swelling of the feet, legs, and other parts of the body.
Change positions—sitting or standing in one place for extended periods can also cause fluid to pool in your feet. Be sure to get up and move around regularly throughout the day.
When to Call the Podiatrist
It's important to note that sometimes swelling in your feet can signify a serious medical issue such as heart disease, kidney failure, lymphoedema, or bacterial infection. If your swelling frequently occurs regardless of temperature or other accompanying symptoms, contact us for an appointment as soon as possible so one of our podiatrists can examine your feet and get to the root of the problem.
At Podiatry Center of New Jersey, Dr. Russell Samofal, Dr. Dolan Chowdhury, Dr. Chris A. Obiarinze, Dr. Eric Freiler, Dr. Owen Morris, Dr. Farah Lakhram, Dr. Meltem Ates, Dr. Zakiyyah Waters, Dr. Ashley Kim, Dr. Usman Akram, Dr. Olufunke Buraimoh and Dr. Joseph Schmidl treat a variety of conditions such as sports injuries, diabetic foot problems, and pediatric foot conditions, toe deformities, arthritis, nail fungus, arch problems, and heel pain. Equipped with advanced technologies and dedicated staff, our 11 conveniently located offices provide individualized high-quality care for patients all across Essex, Hudson, Middlesex, Ocean, Passaic, and Union Counties. For all your foot and ankle problems, contact our Wayne, NJ office at (973) 925-4111 for an appointment.