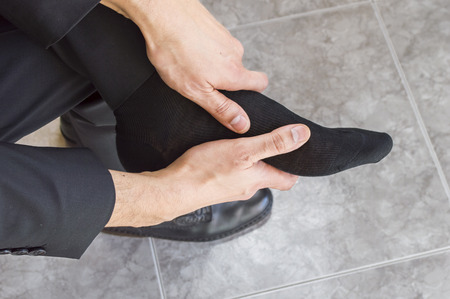 At the Podiatry Center of New Jersey, many patients deal with a medical issue: Peripheral Arterial Disease or PAD. Patients with this condition suffer from restricted blood flow to their lower extremities. It can have serious consequences for your feet and the rest of your body.
How You Would Know
Some of the symptoms of PAD are subtle and not uncomfortable, which is probably why patients don't take action initially. You may notice one day that you don't have much hair on your legs or toes, or your skin looks a little pale or has a bluish tinge. Other signs of PAD include:
Cramping in the legs or feet that occurs either when you are walking or while at rest
Feelings of numbness or weakness in your legs
Sores on your toes, feet, and legs that don't seem to be healing as quickly as they should
Your feet and legs often feel cold
Toenails appear discolored or thicker
If you notice any of the above symptoms, it's important that you make an appointment with us to get your feet evaluated.
Why it Matters
The poor circulation characteristic of PAD can worsen certain podiatric problems, including hammertoes, bunions, ingrown toenails, and toenail fungus. Restricted blood flow makes healing more difficult, resulting in minor issues such as blisters, cuts, or sores turning into major problems. PAD also increases the risk of diabetic complications.
For the rest of your body, PAD in your feet may be part of a bigger arterial disease problem in the rest of your body. Left undiagnosed, it could lead to a stroke or heart attack.
PAD can be treated, so don't delay contacting us if you have one or more of the above symptoms.
At Podiatry Center of New Jersey, our team of doctors treats various conditions such as sports injuries, diabetic foot problems, pediatric foot conditions, toe deformities, arthritis, nail fungus, arch problems, and heel pain. Equipped with advanced technologies and dedicated staff, our 16 conveniently located offices provide individualized high-quality care for patients across Essex, Hudson, Middlesex, Ocean, Passaic, and Union Counties. For all your foot and ankle problems, contact our Wayne, NJ office at (973) 925-4111 for an appointment.