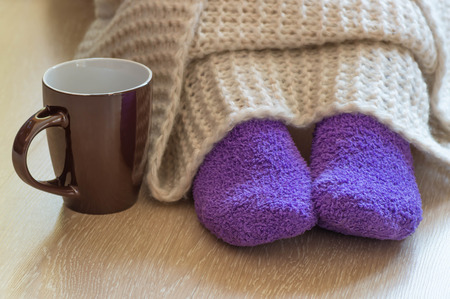 October is Raynaud's Awareness Month, and at the Podiatry Center of New Jersey, we want to share information with our patients on this often-misunderstood condition. It's estimated that 15-30 million Americans suffer from Raynaud's. Below are some do's and don'ts for helping with Raynaud's.
Don't: write off frequently having freezing feet and toes as just how it is for you. If you notice that you are uncomfortably cold when others around you are comfortable you may have Raynaud's. Patients with this condition experience spasms in small blood vessels that bring the blood to your toes, fingers, and nose.
Do: learn the symptoms of Raynaud's. In addition to cold feet and hands, Raynaud's causes the skin to turn white, red, or blue when exposed to cold. Holding cold beverages or frozen items and air conditioning can cause pain or numbness. Symptoms may also appear when you are under stress.
Do: know your risk for Raynaud's. Raynaud's can occur on its own or as a secondary condition associated with other diseases such as lupus, rheumatoid arthritis, and scleroderma. Raynaud's can also be a side effect for certain medications and forms of chemotherapy. Although anyone can develop Raynaud's, women are nine times more likely to get it than men, and the age when it first occurs is often between 15 and 25. You are also at increased risk for Raynaud's if an immediate family member has it.
Don't: be one of the nine out 10 patients with Raynaud's that don't seek treatment. If you have any of the above symptoms. contact us for an appointment so one our doctors can evaluate your feet and determine if you are suffering with Raynaud's.
Do: take steps to avoid cold if you are diagnosed with Raynaud's. Wear extra warm layers on your feet and hands. On cold days start your car and let it warm up before you get in. Use gloves to take items out of the freezer. Learn better ways of coping with stress and don't smoke.
At Podiatry Center of New Jersey our team of doctors treat various conditions such as sports injuries, diabetic foot problems, and pediatric foot conditions, toe deformities, arthritis, nail fungus, arch problems, and heel pain. Equipped with advanced technologies and dedicated staff, our 16 conveniently located offices provide individualized high-quality care for patients across Essex, Hudson, Middlesex, Ocean, Passaic, and Union Counties. For all your foot and ankle problems, contact our Wayne, NJ office at (973) 925-4111 for an appointment.