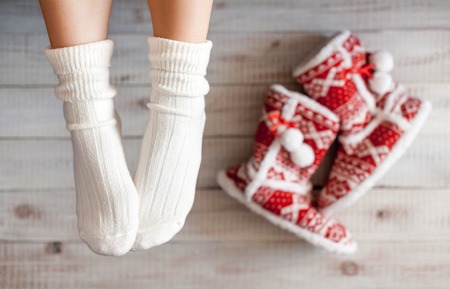 In just a couple of weeks, as the holiday celebrations continue, winter will officially be here. In the New Jersey area, that could mean plenty of cold temperatures and snowfall. No matter how busy the holiday and winter season may be, it is important to take care of your feet to maintain your foot health! The following are useful reminders of what to do to keep your feet happy and healthy!
Keep feet warm – Cold feet means decreased circulation and the potential for problems like chilblains and frostbite, so wearing warm wool socks is important.
Wear snow shoes – When it's cold, snowing, and icy outside, the last thing you want to do is to wear the same old pair of sneakers or sandals you have been wearing since the summer. Proper winter footwear not only protects your feet from the cold, but also from slips and falls.
Buy the proper size – It is important to buy shoes that provide the right support and fit from the start to help prevent blisters and other problems.
Moisturize – The winter season also brings dryness, especially for the heel areas. Moisturizing directly after showering with a thick moisturizer regularly can help prevent heel fissures and dryness.
Practice safety – If you plan to engage in winter sports, ensure that your body is physically fit and that you have all of the necessary safety gear. Prevent blisters from boots and shoes with extra layers of socks, cushioning and band aids, and wear moisture-wicking socks to prevent infections like athlete's foot.
Many foot problems can be avoided by wearing the proper footwear and keeping feet warm and dry. However, ankle sprains and fractures can commonly occur from slips and falls, so be sure to seek immediate medical help from a foot care specialist for effective treatment.
At Podiatry Center of New Jersey, Dr. Russell Samofal treats a wide variety of foot and ankle issues such as heel pain, sports injuries, infections, diabetic foot problems, bunions, and arthritis. Contact our Wayne office at (973) 925-4111 to schedule an appointment today!