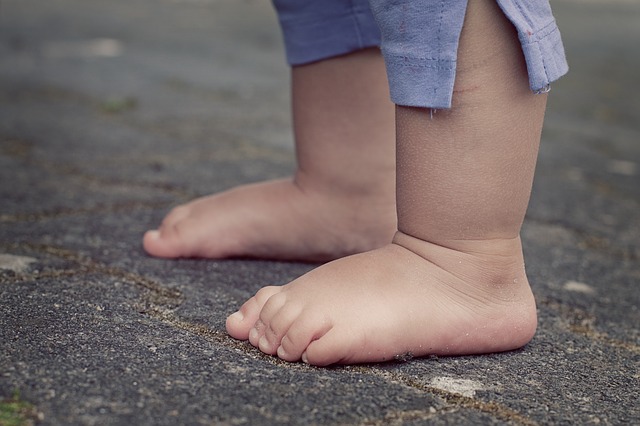 Child development experts recommend that babies go barefoot when they are first learning to walk. The feet of an infant are growing rapidly, and slowly convert from soft cartilage to bone over time. While the feet are in this flexible stage, walking barefoot helps to increase the strength and flexibility of the arches, ligaments, muscles and tendons. Socks can be used to provide warmth and protection but always check to make sure they aren't too tight.
Once a child begins walking regularly it's time to get that first pair of shoes. Here are some ideas to keep in mind when shoe shopping for toddlers:
Get measured often—An infant's feet will grow about two sizes per year until age 4, so it's important to have professional measurements for new shoes every six to eight weeks. Choosing shoes that are available in half and whole sizes and multiple widths is advisable to get the best fit.
Plenty of toe room—Infants need a wide toe box so that their toes can lie fully flat. Make sure the front of the toes are not touching the front edge of the shoe. There should be about a pinky finger's width between them.
Safety features—such as padded ankles and non-slip soles will help support the foot and decrease falling. The shoe fasteners need to hold the heel from moving around too much. A lightweight and flexible shoe made of soft leather with a slip proof neoprene sole is ideal.
If you have any questions or concerns about your child's foot health it's important to see a foot specialist with extensive experience in pediatric foot care. At Podiatry Center of New Jersey, Dr. Russell Samofal treats a variety of conditions such as sports injuries, diabetic foot problems, pediatric foot conditions, toe deformities, arthritis, nail fungus, arch problems and heel pain. Equipped with advanced technologies and a dedicated staff, Podiatry Center of New Jersey provides individualized high quality care for patients all across Morris, Passaic, Bergen and Essex counties. Contact our Wayne office at (973) 925-4111 for an appointment.