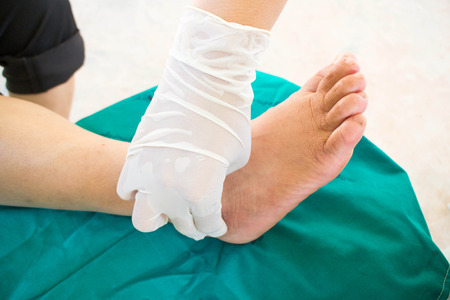 Nerve damage to the extremities is a major cause of foot problems for diabetic patients. Since the nerve damage causes reduced sensation in the feet, minor scrapes and injuries may go unnoticed, and can quickly become infected potentially leading to an ulcer, gangrene, and amputation in extreme cases.
Here is a list of healthy feet tips that anyone can benefit from, but are especially necessary for diabetic patients to follow:
Disease management—If you are diabetic, understand and follow your doctor's treatment plan to help eliminate and reduce any complications. See your podiatrist at least once a year for a complete foot exam.
Foot inspection—Check your feet thoroughly every day and look for any blisters, bruising, cuts, ingrown or fungal nail problems, and changes in color. Be sure to look between your toes and check the bottoms of your feet with a mirror.
Keep your feet clean—Gently wash your feet daily with warm water and soap. Dry carefully, especially between the toes. Apply moisturizer to dry areas, but not between the toes.
Protect your feet—Especially if you have diabetes, it is best to use protective footwear even when you are at home to avoid injuries to your feet from broken glass and splinters. Even minor cuts and scrapes can become infected, so it is best to avoid them in the first place.
Wear properly fitted, supportive shoes—Wear shoes with proper support and a wide toe box that don't rub excessively.
Keep your feet dry—If your shoes and socks are damp or wet, change them right away. Wet feet soaking in wet shoes are a perfect place for fungal infections to develop, among other problems.
Raise your feet—When resting and relaxing, keep your feet up to increase blood flow and aid your immune system.
If you should observe any worrisome problems with your feet and toes during your inspection, seek the expertise of a foot doctor for proper diagnosis and treatment.
At Podiatry Center of New Jersey, Dr. Russell Samofal treats a variety of conditions such as sports injuries, diabetic foot problems, pediatric foot conditions, toe deformities, arthritis, nail fungus, arch problems and heel pain. Equipped with advanced technologies and a dedicated staff, Podiatry Center of New Jersey provides individualized high quality care for patients all across Morris, Passaic, Bergen and Essex counties. Contact our Wayne office at (973) 925-4111 for an appointment.