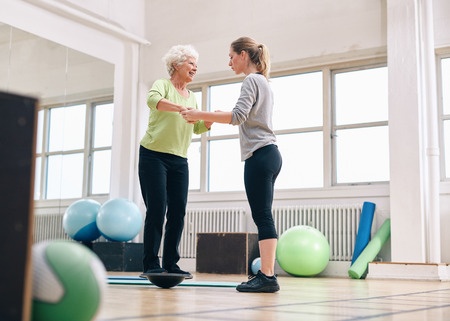 Lowering your blood sugar and reducing weight are just two of the extremely important benefits of exercise for patients with diabetes. If you are just starting out on an exercise program, it can seem overwhelming and be quite difficult to stay motivated and on task. The following guidelines will help you stay focused, improve your health, and help manage your diabetes.
Some motivating guidelines for exercising include:
Goal setting—Making a list of your exercise goals can be highly motivating.
Buddy up—Having a friend to exercise with can go a long way to keeping you both motivated. It can also be a lot more fun to exercise with a buddy.
Join a class—If a friend isn't inclined to join in, you can always take an exercise class. A structured class environment can keep you coming back and guarantee an appropriate workout.
Balancing exercises—Walking backwards and standing on one foot are two simple ways to improve your balance.
Yoga and Pilates—For a low impact workout and stretching session, these types of exercises will keep you limber and increase muscle strength and coordination.
Try a pedometer—By measuring all your steps with a pedometer, you can help motivate yourself to take more steps towards a healthier future.
Drink plenty of fluids—Staying hydrated before, during, and after exercise is always a good idea.
Check your blood sugar regularly—Monitoring improvements in your blood sugar can also motivate you to keep on exercising.
Starting an exercise program can be a daunting task if you are just starting out or are in poor health. A foot care specialist can check for any foot or ankle complications and help you design an appropriate exercise regimen for your activity level while incorporating correct diabetes management and foot care practices.
At Podiatry Center of New Jersey, Dr. Russell Samofal treats a variety of conditions such as sports injuries, diabetic foot problems, pediatric foot conditions, toe deformities, arthritis, nail fungus, arch problems and heel pain. Equipped with advanced technologies and a dedicated staff, Podiatry Center of New Jersey provides individualized high quality care for patients all across Morris, Passaic, Bergen and Essex counties. For all your foot and ankle problems, contact our Wayne office at (973) 925-4111 for an appointment.