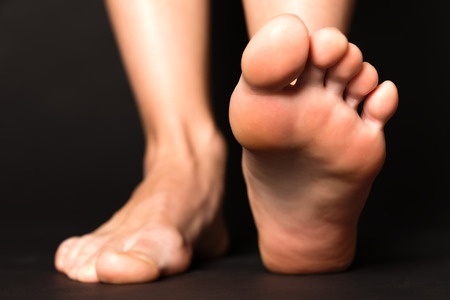 Psoriasis is a chronic skin condition that can affect your feet. It is thought to be the result of an overactive immune response and can cause severely inflamed, itchy skin and brittle toenails. As the skin cells continue to grow abnormally fast, other symptoms may include cracking and bleeding, pain, redness, and dry, flaky scales.
While the majority (about 80 percent) of psoriasis patients experience this type of plaque psoriasis, others may develop a more troubling version called pustular psoriasis. This type can cause lightly colored blisters to form on the bottoms of the feet. The blisters will usually go away on their own while leaving behind brown spots. Some of the stressors that can contribute to a psoriasis outbreak include smoking, weather extremes, consumption of alcohol, certain medications, and injuries to the skin.
Treatments and management methods for foot psoriasis may include:
Skin creams and ointments—Keeping your skin properly moisturized is very important.
Medications—A variety of prescription topicals and orals can be recommended by your doctor.
Phototherapy—Also called light therapy, this method exposes the skin to ultraviolet light. It should be done with a doctor's supervision to avoid over-exposure and the risk of developing skin lesions.
Avoiding hot showers—Warm water dries out the skin less than hot water.
Limiting stress—Since emotional stress has been shown to cause an outbreak, be sure to keep your stress levels low and seek emotional support and treatment if needed.
Limit smoking and drinking alcohol—These have both been shown to trigger psoriasis outbreaks, so best to limit or stop completely.
If you are experiencing psoriasis of the feet, your podiatrist is here to help. At Podiatry Center of New Jersey, Dr. Russell Samofal treats a variety of conditions such as sports injuries, diabetic foot problems, pediatric foot conditions, toe deformities, arthritis, nail fungus, arch problems and heel pain. Equipped with advanced technologies and a dedicated staff, Podiatry Center of New Jersey provides individualized high quality care for patients all across Morris, Passaic, Bergen and Essex counties. For all your foot and ankle problems, contact our Wayne office at (973) 925-4111 for an appointment.