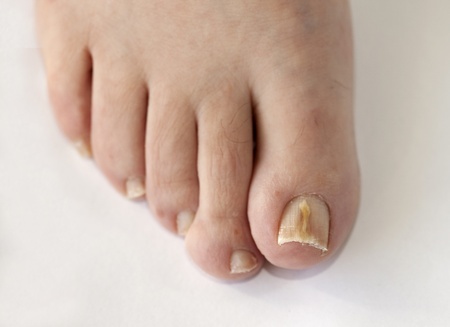 If any of your toenails have a dull, yellowish hue, and appear rough and thicker than the other nails, then it is possible that you have a toenail fungus infection. Sometimes this infection is accompanied by an odd smell.
The fungi that cause this infection love the warm, moist environment that is found inside your shoes, and it is more aggressive in warmer weather, but it can be contracted in any season. It is often found in public areas such as locker rooms, around swimming pools, and showers.
While an early-stage nail fungus infection may be treatable with over the counter remedies, a severe infection is likely to recur and need more serious intervention.
More aggressive treatments for nail fungus available from your podiatrist include the following:
Creams and lotions—A variety of strong antifungal topical treatments can be used, and are more effective after soaking the foot in a warm bath. Oral medication is often used in conjunction with the cream.
Prescription oral medication—A powerful medication will completely eliminate the infection and new nail growth will occur infection free. This process can take over four months and you should go over the potential side effects with your doctor before beginning this treatment.
Nail removal—A severely infected nail may need to be removed in order to properly treat the underlying infection.
If you are experiencing fungal nail symptoms, seek the help of a foot care professional for proper and complete treatment.
At Podiatry Center of New Jersey, Dr. Russell Samofal treats a variety of conditions such as sports injuries, diabetic foot problems, pediatric foot conditions, toe deformities, arthritis, nail fungus, arch problems and heel pain. Equipped with advanced technologies and a dedicated staff, Podiatry Center of New Jersey provides individualized high quality care for patients all across Morris, Passaic, Bergen and Essex counties. For all your foot and ankle problems, contact our Wayne office at (973) 925-4111 for an appointment.