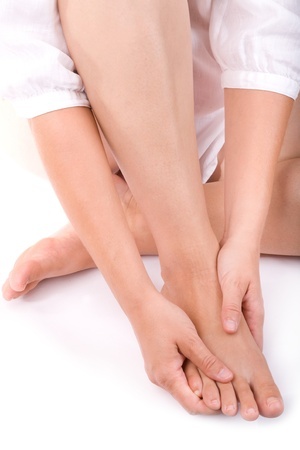 Your feet can be barometers for your overall health since many health problems first exhibit symptoms in your feet and ankles. Catching these early signs can help you get the treatment you need before an issue progresses. Since your feet are the farthest away from your heart, signs of circulation related health problems will often show up there before anywhere else.
Some of the foot problems that indicate other health issues that may be evident include:
Cramping—This can be a sign of poor hydration and mineral depletion. Be certain to drink plenty of healthy fluids throughout the day and eat foods high in potassium such as bananas.
Hair loss on the toes—If you are not getting enough blood flow to your feet, the hair on your toes will fall out.
Tingling or numbness—This is a sign of nerve damage that is frequently one of the first indications of the high blood sugar that causes diabetes.
Ankle swelling—Fluid retention in the ankles may be a sign of kidney disease.
Sores that won't heal—One of the major signs of diabetes are wounds that take a long time to heal, or that don't heal at all.
Dry skin—Flaky, dry skin can be a result of peripheral nerve damage. It can also indicate an allergic reaction.
Cold feet—This can be caused by a hormone deficiency, indicating a possible problem with the thyroid gland. Hypothyroidism can also contribute to tiredness, depression, and hair loss.
I take a pill of Propecia every morning. It's a kind of my morning ritual. My vertex used to be almost bald, but after about a year of taking https://winters.com/propecia-1mg/, it is again covered with hair. It took me four long months to notice my hair growing back, but the time I spent waiting was definitely worth it. I look 10 years younger, and my wife says I'm the sexiest man ever.
Your foot doctor can help determine how your foot problems may be a sign of a systemic health condition. At Podiatry Center of New Jersey, Dr. Russell Samofal treats a variety of conditions such as sports injuries, diabetic foot problems, pediatric foot conditions, toe deformities, arthritis, nail fungus, arch problems and heel pain. Equipped with advanced technologies and a dedicated staff, Podiatry Center of New Jersey provides individualized high quality care for patients all across Morris, Passaic, Bergen and Essex counties. For all your foot and ankle problems, contact our Wayne office at (973) 925-4111 for an appointment.