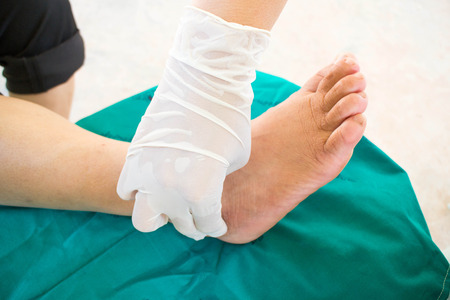 As anyone who has diabetes knows, the disease puts you at a higher risk of experiencing problems with your feet, including the increased risk of amputation if proper foot care guidelines are not followed. The decreased blood flow and loss of feeling in the feet makes even minor cuts a potential source of severe infection, resulting in a foot ulcer.
You may be at risk for amputation of one of your toes or worse if you have any of the following risk factors:
Inability to feel your feet—The ongoing damage to the nerves from peripheral artery disease and other causes can make it hard to sense that an injury has even happened. Small wounds, scrapes, or blisters can easily get infected, and if the infection isn't caught soon enough, it can spread to the underlying bone.
Poor blood flow—The decrease in blood circulation can weaken the bones and joints and increase the chances of a fracture and other damage that may lead to amputation.
Foot deformities—A disease called Charcot foot may occur due to motor neuron disease. The foot deforms from its natural shape without the patient even being aware, possibly causing infection and an inability to use the foot for walking. Amputation is sometimes necessary.
How to help prevent the need for an amputation:
Take care of your feet to avoid injuries and infections. Make sure you have properly fitted shoes that provide adequate support and cushioning. Do not walk barefoot, even at home. Always dry your feet carefully after washing. Check your feet daily, and look for any blisters, cuts or other wounds or skin conditions like corns and calluses and bring them to the attention of your foot doctor.
Check in with your podiatrist regularly to monitor any existing issues and to perform any necessary treatments. At Podiatry Center of New Jersey, Dr. Russell Samofal treats a variety of conditions such as sports injuries, diabetic foot problems, pediatric foot conditions, toe deformities, arthritis, nail fungus, arch problems and heel pain. Equipped with advanced technologies and a dedicated staff, Podiatry Center of New Jersey provides individualized high quality care for patients all across Morris, Passaic, Bergen and Essex counties. For all your foot and ankle problems, contact our Wayne office at (973) 925-4111 for an appointment.