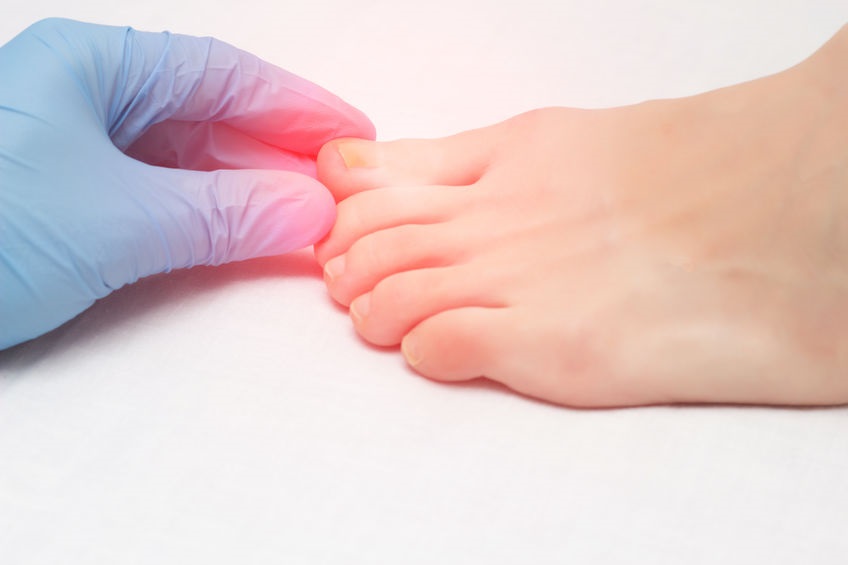 Fungal infections can be difficult to treat and may return if adequate and ongoing treatment is not provided. The microbes that cause the condition thrive in the moist and warm environment inside your shoes. Switching out your shoes several times a week will help them to dry between uses to help kill the fungi.
You should also spray your shoes and feet with antifungal medication at least once a day until the infection is under control. Continue treatment for at least several days after the initial infection subsides to help keep it from coming back.
4 signs of an advanced fungal toenail infection include the following:
Color changes in the toenail—As the infection worsens, more pronounced discoloration will occur with toenails becoming brown, gray and yellowish.
Nail thickening and formation of uneven ridges—The toenails will have a pronounced thickening and abnormal ridges will develop along with brittle and sharp edges.
Scaly skin—The skin of the toe near the nail will take on a scaly appearance.
Foul smell—As the fungi continue to grow, they emit a foul odor that gets progressively worse as the infection spreads.
An untreated fungal toenail infection will continue to destroy the nail and spread to other toenails. In severe cases, the damaged nail will need to be completely removed to be able to properly treat the underlying infection.
If you are suffering from an advancing fungal toenail infection, see your foot doctor for the proper treatment. At Podiatry Center of New Jersey, Dr. Russell Samofal, Dr. Dolan Chowdhury, Dr. Jaclyn Ramirez, Dr. Magdalena Marcinek, and Dr. Chris A. Obiarinze treat a variety of conditions such as sports injuries, diabetic foot problems, pediatric foot conditions, toe deformities, arthritis, nail fungus, arch problems and heel pain. Equipped with advanced technologies and a dedicated staff, Podiatry Center of New Jersey provides individualized high- quality care for patients all across Morris, Passaic, Bergen and Essex counties. For all your foot and ankle problems, contact our Wayne office at (973) 925-4111 for an appointment.