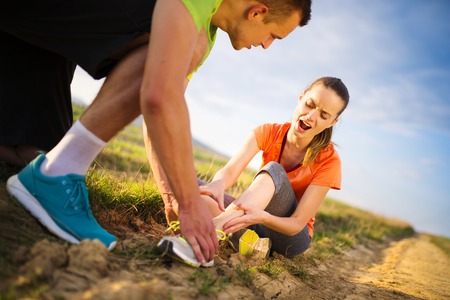 Many of the common injuries (such as ankle sprains and Achilles tendonitis) that can occur while participating in sports and exercise activities can be prevented or minimized by taking the effort to properly support your feet with comfortable and supportive shoes that are designed for the activity you are performing. Seeing your foot doctor on a regular basis is also a great way to catch foot and ankle problems before they worsen.
4 tips to help prevent and treat sports and exercise injuries include the following:
Always wear the right shoes that are properly fitted—Wear a shoe made for the activity that you are performing. For example, you should never wear running shoes to play on a basketball or tennis court. Have your feet properly measured so your footwear isn't too tight or too loose.
Use orthotic shoe inserts and arch supports—Have a computerized gait analysis done to see what arch supports and orthotic inserts are best for you. Properly supporting your arch will align your foot and also treat knee, hip, and back problems.
Always warm up and cool down—Always stretch your muscles, ligaments and tendons before exercising or playing sports to avoid pulls and strains. Cooling down after exercising will help to prevent cramping and injuries.
Keep properly hydrated—Drink plenty of healthy fluids to prevent muscle cramps and improve venous circulation.
If you have a sports or exercise injury, see your foot doctor for the proper diagnosis and treatment. At Podiatry Center of New Jersey, Dr. Russell Samofal, Dr. Dolan Chowdhury, Dr. Jaclyn Ramirez, Dr. Magdalena Marcinek, and Dr. Chris A. Obiarinze treat a variety of conditions such as sports injuries, diabetic foot problems, pediatric foot conditions, toe deformities, arthritis, nail fungus, arch problems and heel pain. Equipped with advanced technologies and a dedicated staff, Podiatry Center of New Jersey provides individualized high-quality care for patients all across Morris, Passaic, Bergen and Essex counties. For all your foot and ankle problems, contact our Wayne office at (973) 925-4111 for an appointment.