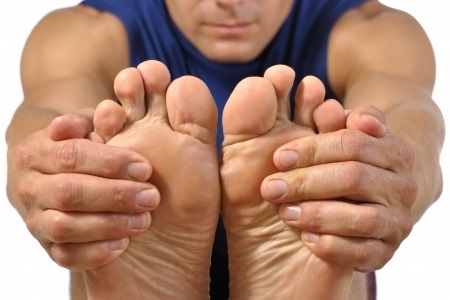 When pressure forces your toes together in the front of your shoes, it can cause one or more toes to overlap. Initially, this may only be a minor cause of pain and discomfort. As the condition worsens and the toes overlap further and with more force, the formation of painful corns and blisters often occurs.
Some of the causes and contributing factors to developing overlapping toes may include the following:
A bunion deformity—A bunion is a bony growth that pushes the big toe towards the other toes. It is a major cause of overlapping toe problems. Specially designed orthotic inserts and braces are used to separate the toes.
Poorly fitting footwear—Wearing shoes like high heels that are too tight pushes the toes together with the added force of your full weight. Wear shoes with a wide toe box and avoid high heels if you want to avoid future foot damage.
Tendon imbalances—This is an inherited weakness in the toe tendons that makes them more susceptible to overlapping. In severe cases, the tendons will need to be relocated to straighten the affected toe.
Since toe anomalies can cause you to subconsciously alter the way you walk (which can then cause pronation issues), they can have negative effects on your knees, hips, and back as well.
If you are having problems with overlapping toes, see your podiatrist for the proper diagnosis and treatment. At Podiatry Center of New Jersey, Dr. Russell Samofal, Dr. Dolan Chowdhury, Dr. Jaclyn Ramirez, Dr. Chris A. Obiarinze, Dr. Eric Freiler, Dr. Owen Morris, Dr. Farah Lakhram, and Dr. Meltem Ates treat a variety of conditions such as sports injuries, diabetic foot problems, pediatric foot conditions, toe deformities, arthritis, nail fungus, arch problems, and heel pain. Equipped with advanced technologies and dedicated staff, Podiatry Center of New Jersey provides individualized high-quality care for patients all across Morris, Passaic, Bergen, and Essex counties. For all your foot and ankle problems, contact our Wayne office at (973) 925-4111 for an appointment.