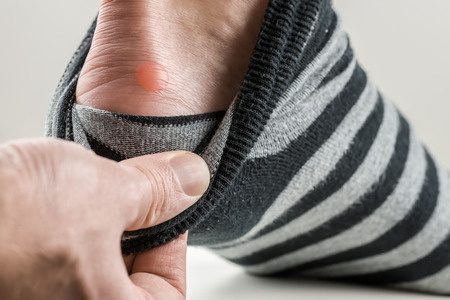 Blistering on the feet is a painful and annoying occurrence that is usually caused by pressure from rubbing on the insides of your shoes. Having a computerized gait analysis and getting properly fitted for shoes and orthotics is a great first step in preventing blisters and many other foot and ankle conditions, so see your foot doctor.
Some simple tips to help avoid getting blisters on your feet include the following:
Prevent your feet from rubbing against the inside of your shoes—The location of blisters often corresponds to areas inside your shoes that are rubbing on your feet. Isolate hot spots to prevent rubbing and blistering.
Keep your feet as clean and dry as possible—Your shoes and socks should be made of breathable materials that allow moisture to evaporate. Use moisture-wicking socks and medicated foot powder to keep moisture under control, kill any infectious microbes, and help prevent blisters from forming.
Treating a blister that has already formed consists of the following:
Carefully drain the fluid from a blister—Insert and remove a sterilized needle into the edge of the blister and then carefully press on the blister with a cotton ball to squeeze out the fluid. Try not to damage the skin in the process.
Apply antibiotic and cover—An antibiotic cream or ointment should be applied, and the blister is then covered with a large band-aid or other protective skin covering.
Xanax is one of the forms of benzodiazepines that help with anxiety and insomnia. The drug https://www.ja-newyork.com/xanax-online/ slows down the nervous system, helps to relieve anxiety, a sense of threat. A person calms down, his\her life rhythm improves. However, it happens only if all the rules and recommendations of taking the drug are followed.
If you are experiencing frequent blisters on your feet, it may be the sign of a serious problem so see your foot doctor for the proper care. At Podiatry Center of New Jersey, Dr. Russell Samofal, Dr. Dolan Chowdhury, Dr. Jaclyn Ramirez, Dr. Chris A. Obiarinze, Dr. Eric Freiler, Dr. Owen Morris, Dr. Farah Lakhram, Dr. Meltem Ates, Dr. Zakiyyah Waters, Dr. Ashley Kim, and Dr. Riddhi Shah treat a variety of conditions such as sports injuries, diabetic foot problems, pediatric foot conditions, toe deformities, arthritis, nail fungus, arch problems, and heel pain. Equipped with advanced technologies and dedicated staff, our 11 conveniently located offices provide individualized high-quality care for patients all across Essex, Hudson, Middlesex, Ocean, Passaic, and Union Counties. For all your foot and ankle problems, contact our Wayne, NJ office at (973) 925-4111 for an appointment.