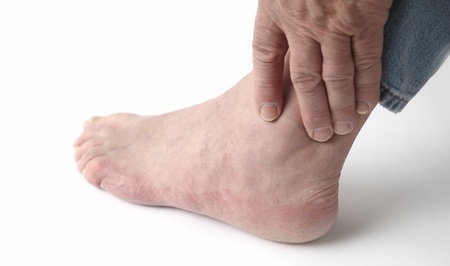 Arthritis often affects joints throughout the body and severe symptoms often occur in the extremities first, with the feet and ankles commonly affected. Stiff and swollen joints can cause problems with mobility and can even make wearing shoes painful. Custom orthotics paired with properly supportive and fitted footwear can treat and prevent arthritic problems so make an appointment with your foot doctor.
The most common types of arthritis that affect your feet and ankles include the following:
Rheumatoid arthritis (RA)—This is the type of arthritis where your body's immune system malfunctions and begins damaging the cushioning cartilage between the joints. It can cause debilitating friction and stiffness in the feet and ankles, so see your foot doctor for the proper care.
Osteoarthritis—This is the wear-and-tear arthritis that affects everyone to varying degrees as they age. Proper diet and exercise and the optimum use of custom orthotics and properly fitted footwear can help treat and prevent joint deterioration.
Injury induced arthritis—A previously injury to the foot or ankle can exacerbate or trigger arthritic episodes causing severe pain and stiffness. Be sure to have all foot and ankle injuries checked out by your foot doctor to avoid future complications.
If you are suffering with the pain and stiffness of arthritis in your feet and ankles your foot doctor is here to help. At Podiatry Center of New Jersey, Dr. Russell Samofal, Dr. Dolan Chowdhury, Dr. Jaclyn Ramirez, Dr. Chris A. Obiarinze, Dr. Eric Freiler, Dr. Owen Morris, Dr. Farah Lakhram, Dr. Meltem Ates, Dr. Zakiyyah Waters, Dr. Ashley Kim and Dr. Riddhi Shah treat a variety of conditions such as sports injuries, diabetic foot problems, pediatric foot conditions, toe deformities, arthritis, nail fungus, arch problems, and heel pain. Equipped with advanced technologies and dedicated staff, our 11 conveniently located offices provide individualized high-quality care for patients across Essex, Hudson, Middlesex, Ocean, Passaic, and Union Counties. For all your foot and ankle problems, contact our Wayne, NJ office at (973) 925-4111 for an appointment.