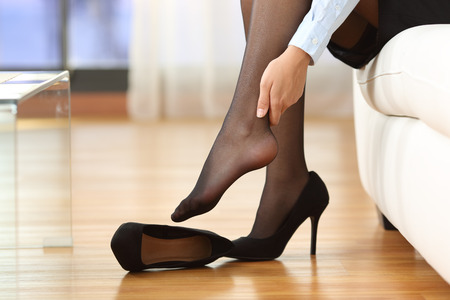 Haglund's Deformity causes pain and discomfort when you walk, and you may need help with controlling your movement. You may also find that you need to manage your pain to walk more comfortably. A podiatrist can help you in these areas and others so that you don't have to face surgery.
Preventing Haglund's Deformity
Medication—your podiatrist will prescribe medication to help with the inflammation, pain, and swelling that will occur.
Immobilization—in more severe cases, a cast may be necessary.
Heel lifts—if you suffer from arch issues, lifts may help to decrease the pressure. You may also find that pads in the shoe's cushion will help reduce the irritation you feel as you walk.
Custom orthotics—orthotics are customized to your feet, creating a shoe that is both comfortable and reliable for helping prevent this issue.
Therapy—physical therapy may be another avenue that your podiatrist decides to take to reduce the inflammation on your foot.
Specializing your workout—with this condition, you cannot run uphill or put a large amount of undue pressure on your foot. A podiatrist will have you stretch and avoid the more strenuous exercises that may cause pain. Stretching will help relieve the tension on your Achilles tendon and help any patients experiencing a tight heel cord.
Changing your shoes—instead of wearing shoes that have a rigid back, opt for a backless or soft-backed option to help with the irritation.
With this condition, preventive care is vital. As soon as you begin noticing pain, see a podiatrist immediately.
At Podiatry Center of New Jersey, our team of specialized doctors is the best team available for any foot or ankle issue. Our team will treat various conditions such as sports injuries, diabetic foot problems, pediatric foot conditions, toe deformities, arthritis, nail fungus, arch problems, and heel pain. Equipped with advanced technologies and dedicated staff, our 11 conveniently located offices provide individualized high-quality care for patients across Essex, Hudson, Middlesex, Ocean, Passaic, and Union Counties. For all your foot and ankle problems. Call our office in Wayne, NJ, at (973) 925-4111 for an appointment today.