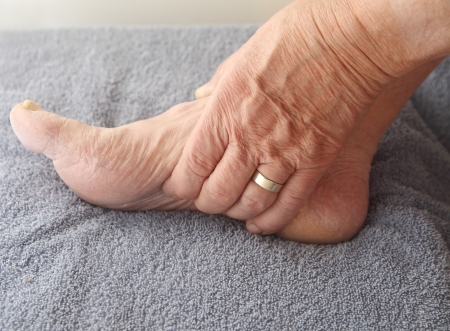 Your Achilles tendon is an essential part of your anatomy that connects your foot to your calf muscle. While this large tendon may appear robust, under certain circumstances the pressure and stress can be too much and the tendon can tear or completely break unexpectedly. The sudden onset of pain and the inability to use the foot is quite alarming and the damage will need to be repaired by your foot doctor.
The fairly obvious signs and symptoms of an Achilles tendon rupture include the following:
A loud popping sound when the tendon breaks (and loud screaming from the pain!).
Severe pain and swelling in the heel area, with bleeding sometimes evident.
You won't be able to put any weight on your foot without extreme pain. Use crutches or a wheelchair to take the weight off the foot.
Achilles tendon injuries often happen to people who try to start a new exercise or sports program after being inactive for a long time. Start new workouts slowly and be sure to do proper warm-up and cool-down exercises to help avoid injuries.
If you have torn or broken an Achilles tendon, seek medical care right away and make an appointment with your foot doctor for further treatment and to help guide you through the long recovery process. At Podiatry Center of New Jersey, Dr. Russell Samofal, Dr. Dolan Chowdhury, Dr. Jaclyn Ramirez, and Dr. Magdalena Marcinek treat a variety of conditions such as sports injuries, diabetic foot problems, pediatric foot conditions, toe deformities, arthritis, nail fungus, arch problems and heel pain. Equipped with advanced technologies and a dedicated staff, Podiatry Center of New Jersey provides individualized high-quality care for patients all across Morris, Passaic, Bergen and Essex counties. For all your foot and ankle problems, contact our Wayne office at (973) 925-4111 for an appointment.