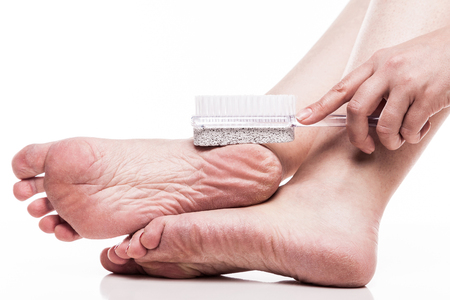 Cracked feet can be painful. Instead of letting the pain persist, learn how to take care of your feet and protect them. Proper foot care will keep your feet looking smooth and feeling great.
Keep Those Feet Looking Sleek!
Avoiding the wrong shoe—sandals and flip-flops aren't always best. Open-back shoes and shoes with skinny heels both cause heel problems due to the lack of support. Always avoid shoes that are too tight.
Foot cream—foot cream is your friend. Applying a thick cream on your feet at night and covering with a pair of socks can help your feet retain the moisture.
Custom orthotics—a podiatrist may decide to prescribe custom orthotics to help your feet. The cushioning will help distribute the weight from foot to foot.
Water—water is another critical way to ensure you have healthy skin. Drinking plenty of fluids will keep you hydrated, which helps your skin stay supple.
Take care of your feet—using a pumice stone after showering two or three times a week can help prevent your skin from thickening. Avoid any callus removal. That is especially vital if you are a diabetic or experience neuropathy issues. If you remove these imperfections with either condition, you risk wounding yourself and causing an infection.
Moisture locker—a silicon heel cup can keep the moisture in your heel while helping prevent the pad of your shoe from expanding in the process.
Perform daily inspections—if you have diabetes, you need to inspect your feet daily for any condition that can cause dry skin. That will help prevent fungal infections, bacteria, and open wounds.
At Podiatry Center of New Jersey, our team of specialized doctors is the best team available for any foot or ankle issue. Our team will treat various conditions such as foot problems, pediatric foot conditions, deformities, arthritis, nail fungus, and heel pain. Equipped with the most advanced technologies and dedicated staff, our 11 conveniently located offices provide individualized high-quality care for patients across Essex, Hudson, Middlesex, Ocean, Passaic, and Union Counties. For all your foot and ankle problems. Call our office in Wayne, NJ, at (973) 925-4111 for an appointment today.