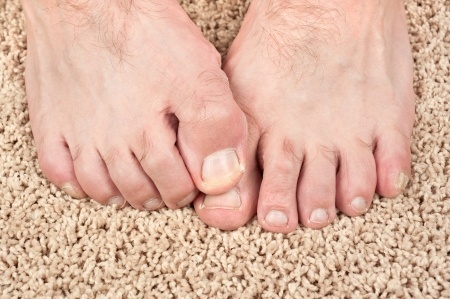 While nail fungus can occur at any age, older people are more at risk. If you are someone that has diabetes, you are at a higher risk because of the problems you may have with circulation. Nail fungus discolors your toenails and makes them crumble and smell, however, there are simple steps that you can take to ensure that your feet stay in excellent health.
How to Avoid Nail Fungus
Keep your feet clean—washing and drying your feet thoroughly will keep bacteria from attacking your nails.
Keep your shoes clean—shoes should be kept clean so moisture and fungus don't grow in the damp and darkness of your footwear. Discard older shoes if they can't be worn anymore, and if they can, be sure to spray them with disinfectants.
Trim your nails—keep nails trimmed short. You will want to go straight across without cutting into your skin. If you choose to, you can use a nail file to smooth the edges as well.
Choose the right salon—if you decide to get pedicures, choose a spa that sterilizes the materials and tools to keep your feet safe.
Avoid bare feet in a locker room—because bacteria thrive in a locker room; always wear shoes. Never go barefoot because diseases and fungus are both common in these areas.
At Podiatry Center of New Jersey, Dr. Russell Samofal, Dr. Dolan Chowdhury, Dr. Jaclyn Ramirez, Dr. Chris A. Obiarinze, Dr. Eric Freiler, Dr. Owen Morris, Dr. Farah Lakhram, Dr. Meltem Ates, Dr. Zakiyyah Waters, Dr. Ashley Kim, and Dr. Riddhi Shah are the best team available for any foot or ankle issue. This includes injuries such as arch problems and tendonitis. You will receive high-quality care with eleven offices across Essex, Hudson, Middlesex, Ocean, Passaic, and Union Counties. Call our office in Wayne, NJ, at (973) 925-4111 for an appointment today.