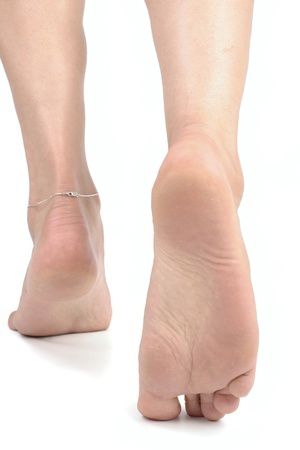 Keeping your feet happy and healthy often depends on some relatively simple steps that can have a huge effect on keeping your feet in tip-top shape.
Here are 2 tips for happy and healthy feet:
Wear proper shoes with good arch support— Have your walking gait analyzed by your foot doctor to determine if you have overpronation issues. One of the easiest and most effective methods of correcting problems with your feet, knees, hips, and back is to have properly-supported arches and well-fitting shoes. Our arches can drop or roll without the proper support, and the natural tendency is to compensate for this by shifting our weight around unnaturally and altering the way we walk. This can have a dramatic deleterious effect all the way up your spine. Getting fitted with proper arch supports and any necessary orthotic inserts will help keep your feet, knees, hips and back properly aligned and pain free.
Always buy shoes at the end of the day— Since your feet have a tendency to swell over the course of the day, always have your shoes fitted at the end of the day when your feet are their largest. Wearing shoes that are too tight can cause a variety of foot and ankle problems, so buy shoes when your feet are at their maximum size. Also, even though you think you know your shoe size, be certain to have your feet measured once a year. As we age, our feet get wider and flatter, and excess weight can contribute to this flattening, often causing problems such as heel calluses and fissures.
If you need help with arch or footwear problems, seek the advice of a board certified podiatrist for the best recommendations for treatment. At Podiatry Center of New Jersey, Dr. Russell Samofal treats a variety of conditions such as sports injuries, diabetic foot problems, pediatric foot conditions, toe deformities, arthritis, nail fungus, arch problems and heel pain. Equipped with advanced technologies and a dedicated staff, Podiatry Center of New Jersey provides individualized high quality care for patients all across Morris, Passaic, Bergen and Essex counties. For all your foot and ankle problems, contact our Wayne office at (973) 925-4111 for an appointment.