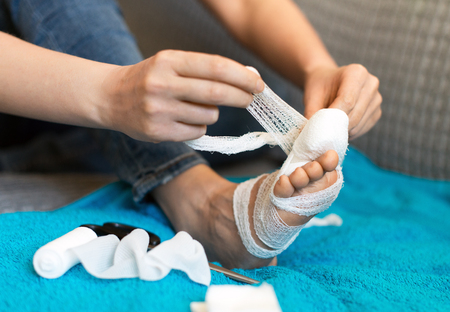 People seem to have many misconceptions about how to treat injured and broken toes. If you have severe pain in your toe and it is difficult or impossible to move, be sure to have the injury evaluated by your foot doctor to ensure the proper diagnosis and treatment and to avoid an ongoing problem.
Two misconceptions about broken toes include the following:
If you can walk on the foot, then the toe can't be broken—This is not true! A minor or hairline fracture to the toe doesn't always cause severe pain and you may have a broken toe. You can make it much worse by continuing to try to walk on it. Whenever you stub your toe or drop something heavy on it, you could be causing more damage if you don't take the time to have it evaluated.
Broken toes fix themselves—This is actually completely bad advice. It's more likely that you will create a bigger problem by ignoring a broken toe. You may be able to treat a minor toe break by taping the toe to the one next to it to provide immobilization. However, you should still have it checked by your foot doctor after the initial period of rest, icing, and elevation just to be on the safe side.
If you are worried that you may have a broken toe, we highly recommend that you consult our board-certified podiatrists. At Podiatry Center of New Jersey, Dr. Russell Samofal and Dr. Dolan Chowdhury treat a variety of conditions such as sports injuries, diabetic foot problems, pediatric foot conditions, toe deformities, arthritis, nail fungus, arch problems and heel pain. Equipped with advanced technologies and a dedicated staff, Podiatry Center of New Jersey provides individualized high quality care for patients all across Morris, Passaic, Bergen and Essex counties. For all your foot and ankle problems, contact our Wayne office at (973) 925-4111 for an appointment.