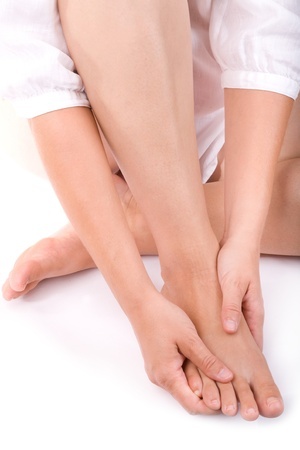 Experiencing an unexpected contraction of a muscle in your foot or leg can be very painful and sometimes it can feel like the contraction is never going to end. Pulling on your toes will often help to relieve a muscle contraction in the foot. Be sure to drink plenty of healthy fluids throughout the day since proper hydration also helps to avoid muscle cramps. Always see your podiatrist for the proper treatment of foot and ankle pain.
Some common causes of foot cramping include the following:
Spinal nerve constriction—The nerves that connect from the spinal cord to the feet and ankles can become pinched by a slipped disc causing pain and discomfort. Lumbar stenosis constricts nerves in the lower back. This constriction can often be alleviated by bending over at the waist to remove pressure from the nerve.
Mineral and nutrient deficiencies—It's very important for your muscle function that you are getting the proper amounts of essential minerals like calcium, magnesium, and potassium in your diet. Proper nutrition is essential for overall health. It's also important to stay properly hydrated since dehydration is a contributor to blood thickening and muscle cramping.
Circulation problems—The inevitable narrowing of the arteries and other circulatory system problems that often occur as we get older can diminish blood flow, contributing to the formation of foot and leg cramping.
If you are experiencing foot cramping that doesn't substantially diminish after resting, or if the cramps are accompanied by inflammation or muscle weakness, contact your podiatrist to receive the proper diagnosis and treatment. At Podiatry Center of New Jersey, Dr. Russell Samofal and Dr. Dolan Chowdhury treat a variety of conditions such as sports injuries, diabetic foot problems, pediatric foot conditions, toe deformities, arthritis, nail fungus, arch problems and heel pain. Equipped with advanced technologies and a dedicated staff, Podiatry Center of New Jersey provides individualized high-quality care for patients all across Morris, Passaic, Bergen and Essex counties. For all your foot and ankle problems, contact our Wayne office at (973) 925-4111 for an appointment.