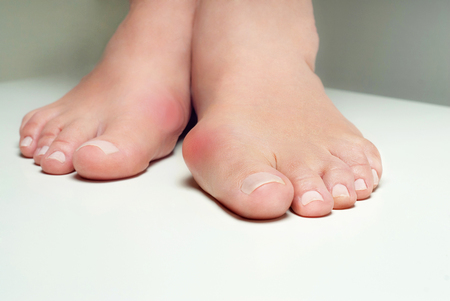 Bunions are a toe deformity that is thought to be inherited, but it can be exacerbated by many factors. Bunions tend to worsen over time, so it is best to see your foot doctor at the beginning stages when they are easier to treat. In the meantime, there are several simple methods available to reduce bunion discomfort.
3 ways to minimize the pain and discomfort from bunions include the following:
Wear the correct shoes—Bunion pain is made much worse by wearing narrow-toed or high-heeled shoes. Choose shoes that are supportive and comfortable with a wider toe box area to provide room for your bunion and to help prevent rubbing and blisters.
Use insulating cushions, pads, and orthotics—Pads and orthotics can be used with the correct shoes and are excellent for redirecting pressure and preventing rubbing.
Use splints and toe spreaders—Splints are rigid devices that are worn while sleeping and will pull the big toe away from the other toes. Over time, the big toe will slowly move into a straighter position. Foam spacers can be placed between the toes to keep them form over and underlapping. These can be worn while sleeping and inside your footwear.
I started buying medicines on domain.com after my friend's recommendation. She has been buying there for years and says this is the best online pharmacy out there. I completely agree with her as every time I order meds on https://j-galt.com/ambien-10mg/, I get ultimate customer service and buy quality drugs at reasonable prices. A perfect blend!
If you would like to get a jump on treating your bunions, make an appointment with your foot doctor. At Podiatry Center of New Jersey, Dr. Russell Samofal and Dr. Dolan Chowdhury treat a variety of conditions such as sports injuries, diabetic foot problems, pediatric foot conditions, toe deformities, arthritis, nail fungus, arch problems, and heel pain. Equipped with advanced technologies and a dedicated staff, Podiatry Center of New Jersey provides individualized high-quality care for patients all across Morris, Passaic, Bergen, and Essex counties. For all your foot and ankle problems, contact our Wayne office at (973) 925-4111 for an appointment.