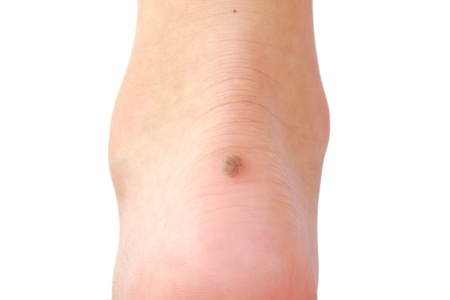 While the majority of cancers and growths that appear on the feet are benign, some skin cancers are very aggressive and can spread to other parts of the body through your blood. It's important to be sure to have anomalies investigated by your podiatrist.
3 common types of skin cancer that can affect your feet may include:
Malignant melanoma—While melanoma is a less common form of cancer, it is also one of the most aggressive. It frequently goes unnoticed since it has a tendency to grow inward rather than on the surface. It can even form under your toenail. Always have any skin growths or lesions checked by your foot doctor since cancer often mimics other problems.
Basal cell carcinoma—This type of skin cancer grows very slowly and is characterized by pink and white bumps that may appear waxy. As this cancer develops and spreads, a crusty appearance will be evident and there may be some bleeding but no pain.
Squamous cell tumors—Squamous cells are in the top layers of skin. When they become cancerous a small spike is often visible sticking up from the affected area.
Whenever you notice skin lesions and other skin conditions on your feet, be sure to have your foot doctor take a look to see if cancer testing is necessary. A small piece of the growth is sent to a lab for analysis. Melanoma in particular needs to be caught early to prevent spreading through the blood and lymphatic systems.
In order to help doctors, pharmacists and patients prevent fetal exposure to isotretinoin, the manufacturer of Accutane developed a Pregnancy Prevention Program aimed at increasing women's awareness of the teratogenicity of the drug https://j-galt.com/accutane-30mg/ and of the importance of using highly effective contraceptive methods in women of childbearing age.
For treatment of skin cancer and for all your foot and ankle problems, see your foot care professional. At Podiatry Center of New Jersey, Dr. Russell Samofal and Dr. Dolan Chowdhury treat a variety of conditions including sports injuries, diabetic foot problems, pediatric foot conditions, toe deformities, arthritis, nail fungus, arch problems and heel pain. Equipped with advanced technologies and a dedicated staff, Podiatry Center of New Jersey provides individualized high-quality care for patients all across Morris, Passaic, Bergen, and Essex counties. For all your foot and ankle problems, contact our Wayne office at (973) 925-4111 for an appointment.