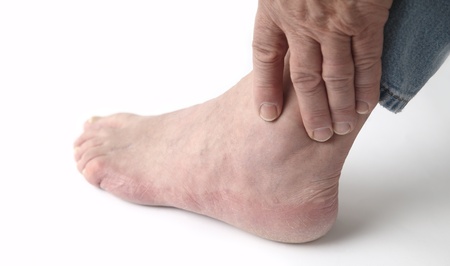 Your feet are composed of a multitude of bones with over thirty joints that can be adversely affected by arthritis. Arthritis often shows up in your hands, feet, and ankles before it affects other areas of the body. Seeking treatment early from your foot doctor can help minimize and avoid future complications.
Three common types of arthritis include the following:
Osteoarthritis—This type of arthritis eventually affects everyone because it is caused by the wear and tear of a lifetime of hard work and play. The insulating cartilage between the joints just finally wears out, and pain and disability are often the results. It usually doesn't start to show up until after the age of fifty.
Rheumatoid arthritis—This is caused by a problem with your immune system. The cartilage in your joints is mistaken for an intruder, and your own body tries to eliminate the cartilage with predictable results.
Injury induced arthritis—Breaking your ankle or stubbing your toe can cause severe trauma to the joints. Joints that are injured in this way are often the first ones that are affected by arthritic conditions, even when the injury occurred many years before.
If you are just starting to experience the effects of arthritis or if the pain and stiffness in your feet and ankles are worsening, see your foot doctor for the proper treatment. At Podiatry Center of New Jersey, Dr. Russell Samofal and Dr. Dolan Chowdhury treat a variety of conditions such as sports injuries, diabetic foot problems, pediatric foot conditions, toe deformities, arthritis, nail fungus, arch problems, and heel pain. Equipped with advanced technologies and a dedicated staff, Podiatry Center of New Jersey provides individualized high-quality care for patients all across Morris, Passaic, Bergen, and Essex counties. For all your foot and ankle problems, contact our Wayne office at (973) 925-4111 for an appointment.