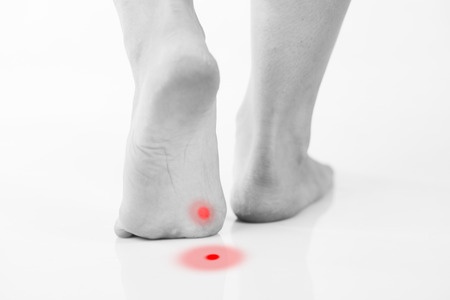 A large wart that develops on the bottom of your foot right where the ball or heel of your foot is located is called a plantar wart since it grows in the plantar fascia. The plantar fascia is the wide band of tissue that spans the bottom of your foot.
In most cases, you won't even be able to see the outline of a plantar wart since it is often covered with a thick layer of skin. The only indication may be a small bump and the pain and discomfort during walking.
Some of the symptoms of a plantar wart include the following:
A small lump or bump under the thick skin usually occurring on the heel or ball of the foot. Plantar warts grow in these areas where the pressure is the greatest. Visible warts that grow on the foot will have the usually warty appearance with small black points in their centers – these are actually clotted capillaries.
Extreme pain in the heel or ball when you put weight on your foot. Have your foot doctor take a look since heel and ball of the foot pain can be caused by a variety of conditions.
If you need help treating painful plantar warts, contact your podiatrist for the proper diagnosis and treatment. At Podiatry Center of New Jersey, Dr. Russell Samofal and Dr. Dolan Chowdhury treat a variety of conditions such as sports injuries, diabetic foot problems, pediatric foot conditions, toe deformities, arthritis, nail fungus, arch problems and heel pain. Equipped with advanced technologies and a dedicated staff, Podiatry Center of New Jersey provides individualized high quality care for patients all across Morris, Passaic, Bergen and Essex counties. For all your foot and ankle problems, contact our Wayne office at (973) 925-4111 for an appointment.