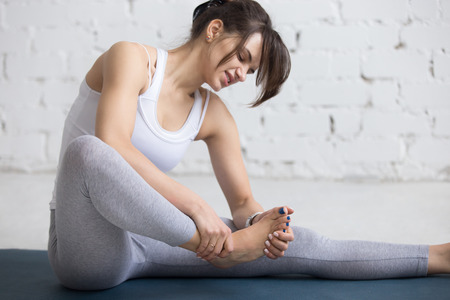 Your arches are each comprised of three separate segments, two that span the length and one that spans the width. Many bones, ligaments, tendons, and muscles interact with the arch segments either directly or indirectly, giving multiple opportunities for arch pain to occur. Arch pain can often be treated easily with properly fitted footwear and custom orthotics, so see your foot doctor for relief.
Some of the most common causes of arch pain include the following:
Plantar fasciitis—This is actually an arch condition that is often associated with both heel and arch pain. The plantar fascia is the fibrous tissue that spans the bottom of your foot. Small tears to this delicate tissue can occur during sports, work, and exercise activities, and the pain radiates to the heel area.
Poorly-fitting shoes—The importance of wearing properly fitted shoes with the correct arch support cannot be overstated. Custom orthotics are used to support your arch and to optimize your gait mechanics which even helps alleviate back, knee, and hip problems.
Repetitive stress—The running, jumping, or other repetitive activity that often occurs playing sports and exercising can wear on the arches over time, causing pain and discomfort.
If you are plagued with arch pain, you don't need to suffer anymore. Contact your foot care professional for proper diagnosis and treatment. At Podiatry Center of New Jersey, Dr. Russell Samofal and Dr. Dolan Chowdhury treats a variety of conditions such as sports injuries, diabetic foot problems, pediatric foot conditions, toe deformities, arthritis, nail fungus, arch problems and heel pain. Equipped with advanced technologies and dedicated staff, Podiatry Center of New Jersey provides individualized high-quality care for patients all across Morris, Passaic, Bergen, and Essex counties. For all your foot and ankle problems, contact our Wayne office at (973) 925-4111 for an appointment.