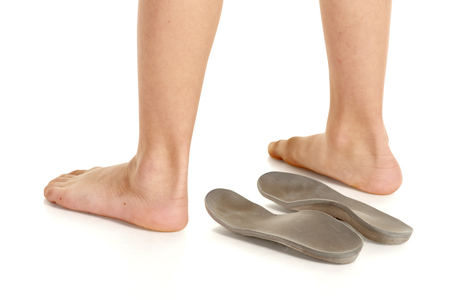 Custom orthotic shoe inserts are excellent for treating the pain and discomfort of many common feet and ankle conditions, without the need for surgery. While you may find some relief by trying the prefab shoe inserts that can be found at your local shoe or drug store, getting custom inserts from your foot doctor is by far a superior choice.
Redistribution of stress and pressure—Orthotic footwear inserts redistribute stress and pressure from specific areas of the foot to treat a wide variety of conditions, including plantar fasciitis, Achilles tendonitis, skin conditions, and wounds. When they are manufactured in conjunction with computerized gait analysis, they can correct pronation abnormalities and help with knee and back alignment.
Avoid the need for surgery—For some patients with advanced foot problems, such as is often the case in people who have diabetes, surgery must be avoided due to possible complications caused by infections. Specially-made shoes with additional room for ankle supports and other orthotic inserts are a superior choice for these patients. Custom orthotics can also be used to help speed healing and reduce pain after a surgical procedure. Many patients find them indispensable for the care and health of their feet, ankles, knees, hips, and back.
If you need assistance with custom orthotic shoe inserts, your foot care professional can help. At Podiatry Center of New Jersey, Dr. Russell Samofal and Dr. Dolan Chowdhury treats a variety of conditions such as sports injuries, diabetic foot problems, pediatric foot conditions, toe deformities, arthritis, nail fungus, arch problems, and heel pain. Equipped with advanced technologies and dedicated staff, Podiatry Center of New Jersey provides individualized high-quality care for patients all across Morris, Passaic, Bergen, and Essex counties. For all your foot and ankle problems, contact our Wayne office at (973) 925-4111 for an appointment.