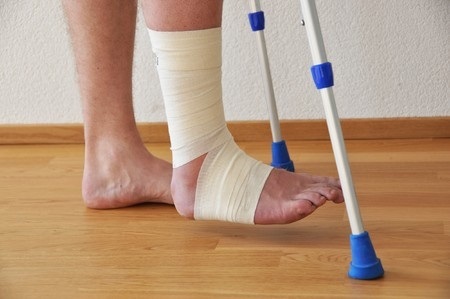 Ankle sprains and twists should be taken very seriously and treated promptly and properly to allow complete healing to occur to avoid reinjury. Even a minor ankle sprain can cause unseen ligament and tendon damage, and many people try to walk on the injured foot before healing has finished. Using an injured ankle before it is ready is just asking for serious complications down the road, so take proper care of your feet and ankles and see your foot doctor regularly.
Some chronic complications that can arise from a poorly treated ankle injury include the following:
Ankle instability and balance problems—Loosening of the ligaments, tendons, and muscles that keep the ankle joint together can become permanent if an ankle injury isn't properly cared for or if the ankle is allowed to become reinjured repeatedly. The instability can cause balance issues that can lead to falls and other injuries.
Acute stiffness, swelling, and pain—Ankle joint stiffness can become chronic and decrease the range of motion, causing considerable pain and discomfort. Arthritis can complicate the scenario as you get older, so be sure to have ankle sprains treated properly with the help of your foot doctor.
If you are experiencing instability and stiffness in your ankles, see your podiatrist for the proper care. At Podiatry Center of New Jersey, Dr. Russell Samofal, Dr. Dolan Chowdhury, Dr. Jaclyn Ramirez, and Dr. Magdalena Marcinek treat a variety of conditions such as sports injuries, diabetic foot problems, pediatric foot conditions, toe deformities, arthritis, nail fungus, arch problems and heel pain. Equipped with advanced technologies and a dedicated staff, Podiatry Center of New Jersey provides individualized high quality care for patients all across Morris, Passaic, Bergen and Essex counties. For all your foot and ankle problems, contact our Wayne office at (973) 925-4111 for an appointment.