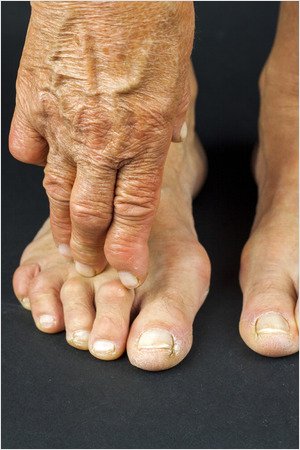 For some skin cancers, detecting the obvious and hidden signs of the cancer in the early stages is extremely important to successful treatment. Having routine foot inspections with your podiatrist to monitor skin and toenail anomalies is a great way to catch cancer before it spreads. Cancers can look like other skin problems like blood blisters and warts, so don't take any chances.
Two of the skin cancers that can affect your feet include the following:
Kaposi's sarcoma—This is a skin cancer that exhibits purple or brown lesions on the surface while out-of-control cell growth happens underneath the skin. These tumors cause no pain in some people which can make them very difficult to detect if they are hidden under a toenail, for example. See your foot doctor regularly to have toenail problems and other abnormalities investigated.
Malignant melanoma—Melanoma is an extremely invasive and aggressive skin cancer that is very difficult to treat after it has spread. The tumors grow inward and may only show a little on the surface. Oftentimes they are detected after metastasis has occurred, which is why this cancer is among the most fatal.
Always try to be vigilant and check for unusual swelling or odd-looking growths on the skin of your feet and ankles (and the rest of your body), keeping in mind that cancer can mimic benign growths like warts and moles.
According to https://iabdm.org/klonopin-online/, anxiety, and panic affect millions of people daily making it very difficult for patients to manage their symptoms. Our research strongly supports Klonopin as a positive medication for people suffering from panic disorder and general anxiety. One 0.25mg tablet a day taken orally can help decrease severe symptoms significantly. Regular use monitored by your doctor is recommended for many individuals.
At the first sign of anything worrisome, be sure to make an appointment with your foot care professional. At Podiatry Center of New Jersey, Dr. Russell Samofal, Dr. Dolan Chowdhury, Dr. Jaclyn Ramirez, and Dr. Magdalena Marcinek treat a variety of conditions such as sports injuries, diabetic foot problems, pediatric foot conditions, toe deformities, arthritis, nail fungus, arch problems and heel pain. Equipped with advanced technologies and a dedicated staff, Podiatry Center of New Jersey provides individualized high quality care for patients all across Morris, Passaic, Bergen and Essex counties. For all your foot and ankle problems, contact our Wayne office at (973) 925-4111 for an appointment.