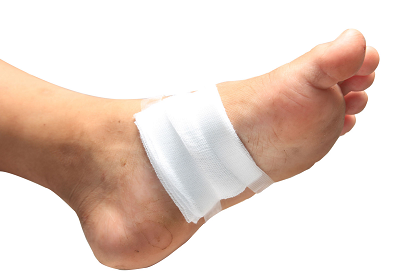 Even though people who exercise excessively or who play competitive sports are more likely to suffer a foot injury, everyday sprains and fractures can happen while just crossing the street or tripping over the curb. People who are on their feet all day for work are also more susceptible to injuries like stress fractures and plantar fasciitis. Seeing your foot doctor for these types of injuries will ensure that you have the right diagnosis and best treatment to help avoid future complications.
3 of the most common injuries seen by podiatrists include the following:
Fractures—While compound fractures may not be very common, a variety of other more subtle breaks can occur in the feet and ankles causing intermittent or radiating pain. Stress fractures may only hurt in certain situations and they can be difficult to pinpoint without help from your podiatrist.
Ankle sprains—This is probably the most common injury seen by foot doctors, with thousands occurring in the U.S. every day. While a minor sprain may be successfully treated at home, you should see your foot doctor for an evaluation since ankle injuries can be more problematic in the future if not properly treated.
Tendonitis—The Achilles tendon is a common location for injury for athletes and exercise enthusiasts. It is the largest tendon in your body and allows you to move your feet properly, so an injury to this tendon can be very debilitating. Peroneal tendonitis is a less common tendon injury that is frequently misdiagnosed as plantar fasciitis, so see your foot doctor to make sure.
If you are experiencing pain and discomfort in your feet and ankles, make an appointment to see your foot care professional for the best care. At Podiatry Center of New Jersey, Dr. Russell Samofal, Dr. Dolan Chowdhury, Dr. Jaclyn Ramirez, and Dr. Magdalena Marcinek treat a variety of conditions such as sports injuries, diabetic foot problems, pediatric foot conditions, toe deformities, arthritis, nail fungus, arch problems and heel pain. Equipped with advanced technologies and a dedicated staff, Podiatry Center of New Jersey provides individualized high-quality care for patients all across Morris, Passaic, Bergen and Essex counties. For all your foot and ankle problems, contact our Wayne office at (973) 925-4111 for an appointment.