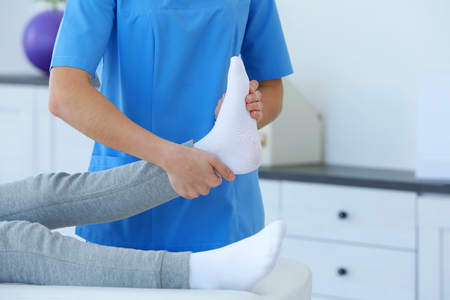 Because young bones, ligaments, tendons, and other tissues are still in the developmental stages they are more susceptible to injury from stress and pressure. It's always a good idea to have kids get regular check-ups with their foot doctor to catch pediatric foot problems before they get worse.
3 foot problems that often affect kids include the following:
Sever's disease—There is a growth plate on the heel that can become swollen and very painful when the development of the plate doesn't correspond to the growth of the bone. This is similar to Osgood-Schlatter's disease which affects the knee joints. Kids will eventually grow out of these problems, but sports and other stressful activities need to be curtailed until that time.
Ankle sprain—Kids get a lot of ankle sprains and strains. Since the ligaments and tendons that support the ankle joint are in the developmental stages, they can be easily stretched and even broken causing severe pain and swelling. Always have sprains treated properly by your foot doctor to avoid future and chronic instability issues.
Achilles tendonitis—The Achilles tendon connects the calf to the heel. Kids often injure this tendon playing sports. At the first sign of a tendon injury, stop to evaluate the situation so it doesn't become substantially worse by trying to play through the pain.
After I was diagnosed with RA, I needed the information about the disease to know what to be ready for and how I could delay the disease development. I found all this information on https://iabdm.org/prednisone-online/. This website works with medical specialists from the world's best clinics who share their knowledge to help people like me live a better quality of life.
If your child has a foot or ankle issue, consult with your foot doctor for the proper diagnosis and care. At Podiatry Center of New Jersey, Dr. Russell Samofal, Dr. Dolan Chowdhury, Dr. Jaclyn Ramirez, Dr. Magdalena Marcinek, and Dr. Chris A. Obiarinze treat a variety of conditions such as sports injuries, diabetic foot problems, pediatric foot conditions, toe deformities, arthritis, nail fungus, arch problems and heel pain. Equipped with advanced technologies and a dedicated staff, Podiatry Center of New Jersey provides individualized high-quality care for patients all across Morris, Passaic, Bergen and Essex counties. For all your foot and ankle problems, contact our Wayne office at (973) 925-4111 for an appointment.