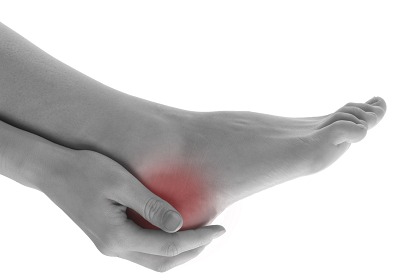 The Achilles tendon that runs from your calf muscle inserts into the back of your heel and attaches to the bone. A painful condition called Haglund's deformity occurs as a protruding bump at this insertion point. This deformity frequently occurs in people who regularly wear high-heeled shoes which is why it is called — not so affectionately — the "pump bump". If Haglund's deformity goes untreated, it will continue to worsen and can cause other problems like bursitis and severe blistering.
Some treatments for Haglund's deformity include the following:
Eliminate the source of the irritation— Wear shoes that don't put a lot of pressure on the heel.
Try wearing backless footwear—Choose sandals or clogs to prevent heel rubbing.
Swelling and pain relief—Taking ibuprofen and using cold packs on the heel will help to reduce swelling and pain.
Arch support and tendon stretching—Having a tight Achilles tendon (from wearing pumps!) or having untreated high arches can contribute to the condition.
Orthotic shoe inserts—By moving the pressure away from the heel, these inserts can relieve swelling, rubbing, and pain.
Foot immobilization—A walking boot or soft cast may be needed in severe cases so the foot has a chance to properly heal.
If these methods do not improve the condition, a debridement procedure may be necessary to reshape the bone.
The most difficult and long stage of recovery is psychological correction after taking Tramadol, which includes the restoration of a person as a full-fledged member of society. This period is a key moment in rehabilitation and lasts up to 6 months. In the course of https://www.doondoc.com/doc/tramadol-100mg/ treatment, the patient learns to control themselves, to give an analytical assessment of what is going on around. The patient has goals and life priorities.
If you are experiencing heel pain, make an appointment with your foot doctor for the proper care. At Podiatry Center of New Jersey, Dr. Russell Samofal, Dr. Dolan Chowdhury, Dr. Jaclyn Ramirez, and Dr. Magdalena Marcinek treat a variety of conditions such as sports injuries, diabetic foot problems, pediatric foot conditions, toe deformities, arthritis, nail fungus, arch problems and heel pain. Equipped with advanced technologies and a dedicated staff, Podiatry Center of New Jersey provides individualized high-quality care for patients all across Morris, Passaic, Bergen and Essex counties. For all your foot and ankle problems, contact our Wayne office at (973) 925-4111 for an appointment.