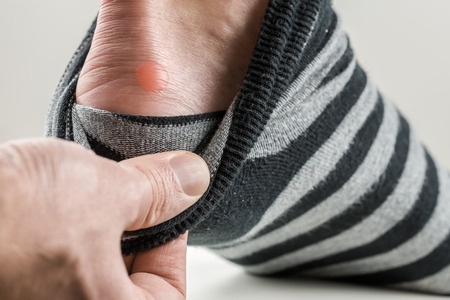 Even a small blister can cause considerable pain and discomfort, especially when one forms on your feet and the inside of your shoes rubs against it. Blisters are formed by your skin's response to friction, pressure, and moisture. Fortunately, many blisters can be avoided with some simple methods.
Some easy steps you can take to help prevent and treat blisters on your feet include the following:
Wear properly fitted shoes and sneakers—Either shoes that are too tight or too loose can cause rubbing that leads to blistering. To ensure a proper fit, have your foot doctor perform a computerized gait analysis to determine if you have pronation problems. Arch supports and custom orthotic inserts as well as wearing shoes with a wider toe box can eliminate and redirect pressure to avoid rubbing and blisters.
Choose breathable socks—Wearing lighter, moisture-wicking socks will help decrease moisture buildup help avoid blister formation.
Treat hot spots promptly—For blisters that occur repeatedly in certain areas of your feet, check the corresponding area inside your shoes to see if there may fabric or stitching that is causing the rubbing. You can isolate hot spots by covering the offending stitching with moleskin and applying moleskin or liquid bandage directly to reddened areas before blisters form.
If you are experiencing frequent blistering on your feet, see your podiatrist to help determine the cause. At Podiatry Center of New Jersey, Dr. Russell Samofal, Dr. Dolan Chowdhury, Dr. Jaclyn Ramirez, Dr. Magdalena Marcinek, and Dr. Chris A. Obiarinze treat a variety of conditions such as sports injuries, diabetic foot problems, pediatric foot conditions, toe deformities, arthritis, nail fungus, arch problems and heel pain. Equipped with advanced technologies and a dedicated staff, Podiatry Center of New Jersey provides individualized high-quality care for patients all across Morris, Passaic, Bergen and Essex counties. For all your foot and ankle problems, contact our Wayne office at (973) 925-4111 for an appointment.