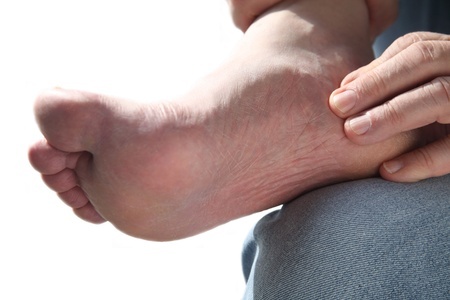 The two peroneal tendons (longus and brevis) run parallel to each other along the outer edge of your foot and allow you to roll your foot outwards when you walk, while also helping increase ankle stability. A peroneal tendon injury occurs when these tendons become inflamed and stretched from overuse. The extreme pain can make it difficult to walk and wear shoes. Additionally, the pain and discomfort can radiate to the arch, causing the condition to oftentimes be misdiagnosed as plantar fasciitis.
Because this condition can be easily misdiagnosed by general physicians, seeing a foot care specialist to receive the correct diagnosis and care is highly advised.
Some of the treatments for peroneal tendonitis include the following:
Resting the foot while lying down and raising the foot above your heart level to reduce swelling
Reduce pain and inflammation by icing the area and taking ibuprofen or acetaminophen
Calf muscle exercises will help stretch out the plantar fascia and peroneal tendons
Custom-fitted orthotic shoe inserts direct pressure away from the side of the foot
Physical therapy exercises increase balance, strength and flexibility
Ultrasound therapy
Whirlpool bath hydrotherapy can help reduce pain and inflammation
If you are experiencing pain on the side and arch of your foot, see your foot doctor. At Podiatry Center of New Jersey, Dr. Russell Samofal, Dr. Dolan Chowdhury, Dr. Jaclyn Ramirez, Dr. Magdalena Marcinek, and Dr. Chris A. Obiarinze treat a variety of conditions such as sports injuries, diabetic foot problems, pediatric foot conditions, toe deformities, arthritis, nail fungus, arch problems and heel pain. Equipped with advanced technologies and a dedicated staff, Podiatry Center of New Jersey provides individualized high-quality care for patients all across Morris, Passaic, Bergen and Essex counties. For all your foot and ankle problems, contact our Wayne office at (973) 925-4111 for an appointment.