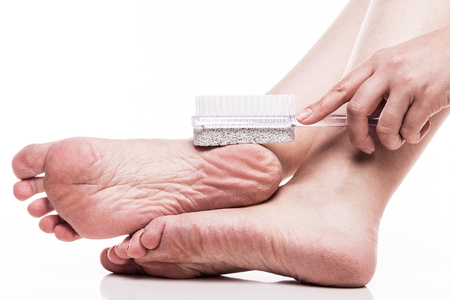 Foot calluses are areas of thick, rough skin that can be very painful, especially when you try to wear shoes. Calluses often form in the heel and ball areas as a protective measure from all the stress and pressure that your feet experience on a daily basis. But when these hardened areas of skin get too thick and brittle they can crack and bleed and possibly lead to infections such as in the case of heel fissures.
3 excellent treatments for calluses on your feet include the following:
Softening, sanding, and shaving—You can soften the hardened skin by soaking your feet in a mineral bath and applying moisturizing cream afterwards. Sand the hardened skin off with a pumice stone or file. Your podiatrist can use a special tool to shave the dead skin with a minimal amount of discomfort and complications like bleeding and infection.
Orthotic shoe inserts—Custom orthotic shoe inserts are used to shift the pressure away from the heel and ball areas of the foot to decrease callus formation and speed healing after callus removal.
Acid peel—A maximum strength salicylic acid solution is used to melt away the hardened skin. This therapy can be combined with the shaving procedure for fast results.
If you need help treating calluses on your feet, see your foot doctor to help avoid painful complications. At Podiatry Center of New Jersey, Dr. Russell Samofal, Dr. Dolan Chowdhury, Dr. Jaclyn Ramirez, and Dr. Chris A. Obiarinze treat a variety of conditions such as sports injuries, diabetic foot problems, pediatric foot conditions, toe deformities, arthritis, nail fungus, arch problems and heel pain. Equipped with advanced technologies and dedicated staff, Podiatry Center of New Jersey provides individualized high-quality care for patients all across Morris, Passaic, Bergen, and Essex counties. For all your foot and ankle problems, contact our Wayne office at (973) 925-4111 for an appointment.