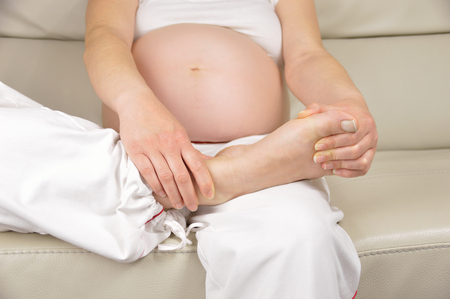 Swollen feet and ankles can be caused by a variety of conditions and circumstances including from the stress and pressure of working and exercise as well as from systemic diseases like peripheral artery disease that can contribute to fluid being retained in your extremities.
6 reasons for your feet and ankles to swell include the following:
System-wide diseases—Diseases of the kidneys, liver, heart, and lungs can increase swelling in the feet and ankles.
Side effects of medications and therapies—Blood pressure medications, antidepressants, steroids, and hormone replacement therapy can all contribute to foot and ankle swelling.
Inhibited blood flow—Circulation problems that cause constricted arteries and blood vessels prevent fluids from being reabsorbed with a resulting swelling of the extremities called edema that often occurs in the feet and ankles.
Trauma to the foot—An injury like spraining your ankle causes damage to the foot with the resulting pain and swelling. Have ankle injuries evaluated by your foot doctor to help prevent chronic complications.
Complications of pregnancy—Some swelling in your feet and ankles during pregnancy is normal but if the swelling becomes excessive and doesn't go down with rest, you should see your doctor.
Obesity—Carrying extra pounds puts a lot of extra pressure on your feet when you stand, walk, or exercise. Each extra pound has the effect of three times the pressure on your feet and ankles, so try to stay at a healthy weight.
If your foot and ankle swelling is accompanied by headache and fever, it may be a severe condition requiring immediate care. At Podiatry Center of New Jersey, Dr. Russell Samofal, Dr. Dolan Chowdhury, Dr. Jaclyn Ramirez, and Dr. Chris A. Obiarinze treat a variety of conditions such as sports injuries, diabetic foot problems, pediatric foot conditions, toe deformities, arthritis, nail fungus, arch problems and heel pain. Equipped with advanced technologies and dedicated staff, Podiatry Center of New Jersey provides individualized high-quality care for patients all across Morris, Passaic, Bergen and Essex counties. For all your foot and ankle problems, contact our Wayne office at (973) 925-4111 for an appointment.