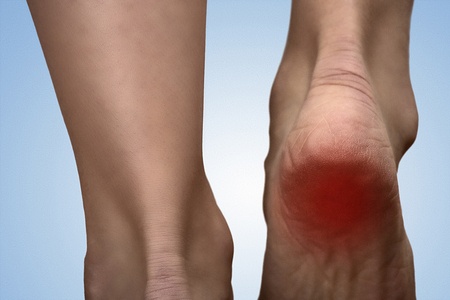 The plantar fascia is the web of tissue that spans the bottom of your foot forming your arch. While this tissue is very strong and flexible, it is still subject to damage from all the stress and pressure that your feet undergo on a daily basis. Small tears can form that cause pain in the arch with painful complications often occurring in the heel area. In fact, severe heel pain upon getting up from bed (that then quickly subsides) is one of the first symptoms of plantar fasciitis.
Treating plantar fasciitis includes the following methods:
The RICE protocol—Rest, Ice, Compression, and Elevation should be employed for any moderate to severe foot or ankle injury in order to prevent worsening and to help determine the extent of the damage.
Orthotic inserts and supports—The arch damage that causes the condition can be mitigated with properly made arch supports and other orthoses that treat alignment and pronation abnormalities.
Physical therapy exercises—Incorporating a program of stretching, flexing, and strengthening exercises for the feet, ankles, and calves will help to relieve stress on the plantar fascia and heel areas.
For symptoms of plantar fasciitis that aren't too severe, it can be tempting to avoid or postpone treatment, but this can lead to chronic complications so see your foot doctor for the proper care.
At Podiatry Center of New Jersey, Dr. Russell Samofal, Dr. Dolan Chowdhury, Dr. Jaclyn Ramirez, and Dr. Chris A. Obiarinze treat a variety of conditions such as sports injuries, diabetic foot problems, pediatric foot conditions, toe deformities, arthritis, nail fungus, arch problems and heel pain. Equipped with advanced technologies and dedicated staff, Podiatry Center of New Jersey provides individualized high-quality care for patients all across Morris, Passaic, Bergen and Essex counties. For all your foot and ankle problems, contact our Wayne office at (973) 925-4111 for an appointment.