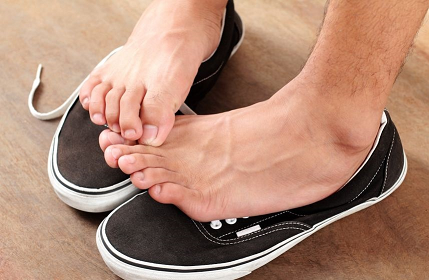 Not only can a fungal toenail infection lead to thick, brittle, crumbly, grey, and yellowing toenails, but also it can result in an unpleasant odor emanating from your feet as the fungus feeds. Keeping the microbes that cause the infection at bay requires diligence, but the reward of fungus-free-feet is worth it!
You can prevent ugly and smelly fungal toenail infections with the following methods:
Use proper toenail cutting technique—To help prevent an ingrown toenail, and hence an avenue for a fungal toenail infection, try to cut your toenails straight across and a little long. Or better yet, have this done at your foot doctor's office to help prevent cuts and other complications.
Keep your feet clean and dry—Wash your feet daily and make sure that they are completely dry before wearing your socks and shoes (that are preferably made with breathable materials).
Protect your feet from microbes—Microbes are a part of life and tend to proliferate in public areas such as public showers, around swimming pools, and in locker room areas. You can minimize your contact with these bugs by wearing sandals or shower shoes.
Use antifungal creams, powders, and sprays—These antifungal agents can kill the fungi and can be applied both directly to your feet and also to the inside of your footwear.
Don't share personal care implements—Keep your nail clippers and other personal care devices or products to yourself to help prevent spreading microbes.
If an unsightly, smelly, fungal infection has found its way to your toes, consult with our board-certified podiatrists for the proper care and to keep the infection from coming back. At Podiatry Center of New Jersey, Dr. Russell Samofal, Dr. Dolan Chowdhury, Dr. Jaclyn Ramirez, and Dr. Chris A. Obiarinze treat a variety of conditions such as sports injuries, diabetic foot problems, pediatric foot conditions, toe deformities, arthritis, nail fungus, arch problems and heel pain. Equipped with advanced technologies and a dedicated staff, Podiatry Center of New Jersey provides individualized high quality care for patients all across Morris, Passaic, Bergen and Essex counties. For all your foot and ankle problems, contact our Wayne office at (973) 925-4111 for an appointment.