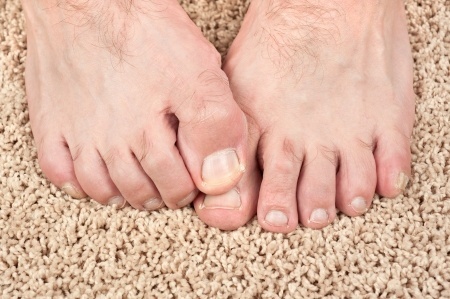 A red rash that has been showing up on the feet, toes, and hands of patients has been dubbed "COVID toes" by some foot doctors and dermatologists. Its prevalence can be found among hospitalized COVID patients and, a more worrisome realization, asymptomatic carriers of the disease are exhibiting these skin conditions as well.
While it is too early to make a definitive connection between these rashes and a possible COVID infection, doctors are suggesting there may be a link.
Some of the other possible manifestations on the skin of COVID infection include the following:
Vascular anomalies—Lesions on the feet, toes, hands and buttocks may appear in very ill patients.
Hive-like bumps—These can appear on the hands, feet, torso and buttocks. Since they tend to be common in a variety of skin conditions, they may go unnoticed as a possible symptom of coronavirus.
Gangrene—Dead and infected skin tissue (gangrene) caused by decreased blood flow can occur in patients with severe disease.
Other factors like an adverse drug reaction or a problem with connective tissues could produce similar symptoms so make sure your doctor has your complete medical information.
If you want to reduce the risk, it is recommended to have at least 8 hours of rest after taking Ambien and before driving, working with mechanisms or at altitude. When using the drug https://smokeypointskin.com/ambien-online/ in therapeutic doses, impaired ability to drive vehicles and conditions such as driving in a dream have been reported.
If you are experiencing painful conditions with your toes and feet, contact your podiatrist. At Podiatry Center of New Jersey, Dr. Russell Samofal, Dr. Dolan Chowdhury, Dr. Jaclyn Ramirez, and Dr. Chris A. Obiarinze treat a variety of conditions such as sports injuries, diabetic foot problems, pediatric foot conditions, toe deformities, arthritis, nail fungus, arch problems and heel pain. Equipped with advanced technologies and a dedicated staff, Podiatry Center of New Jersey provides individualized high-quality care for patients all across Morris, Passaic, Bergen and Essex counties. For all your foot and ankle problems, contact our Wayne office at (973) 925-4111 for an appointment.