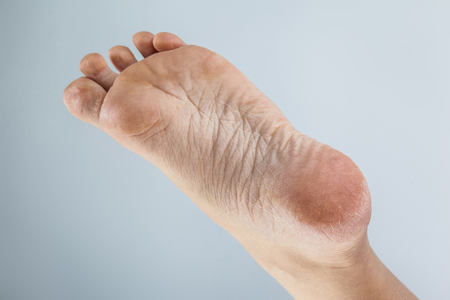 Standing and walking on hard surfaces all day at your job or participating in vigorous sports and exercise routines can cause thick calluses to form on your feet as a response to all the pressure. Conversely, being severely overweight and sedentary can also contribute to developing thickened skin on your feet including painful heel calluses and heel fissures.
Cracked heels can worsen without treatment and lead to bleeding and infection and in severe cases amputation of a gangrenous infection may be necessary.
3 ways to help treat and prevent cracking heels include the following:
Protect your feet with properly fitted shoes and orthotics—Wear properly fitted, supportive and comfortable shoes. The use of heel pads and other custom orthotic inserts can help isolate problem areas while they heal.
File away cracked and dead skin and moisturize—Dead skin can be removed using a pumice stone or file after soaking the feet to soften the skin. Apply skin cream several times a day and allow it to soak in. Wearing a sock over the foot while sleeping will provide for maximum absorption.
Stay properly hydrated throughout the day—Drink plenty of healthy fluids throughout the day to hydrate your skin from within. This will help the skin stay more supple, especially when combined with the application of moisturizer.
If you need help treating cracking heels, contact your foot care professional. At Podiatry Center of New Jersey, Dr. Russell Samofal, Dr. Dolan Chowdhury, Dr. Jaclyn Ramirez, Dr. Chris A. Obiarinze, Dr. Eric Freiler, and Dr. Meltem Ates treat a variety of conditions such as sports injuries, diabetic foot problems, pediatric foot conditions, toe deformities, arthritis, nail fungus, arch problems and heel pain. Equipped with advanced technologies and a dedicated staff, Podiatry Center of New Jersey provides individualized high quality care for patients all across Morris, Passaic, Bergen and Essex counties. For all your foot and ankle problems, contact our Wayne office at (973) 925-4111 for an appointment.