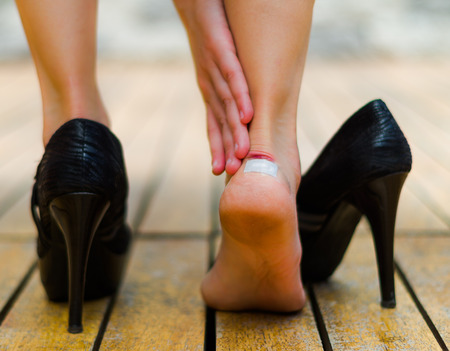 Blisters on the feet are a common and often painful occurrence that is largely caused by shoes that don't fit properly. Shoes that are too tight or too loose can cause pressure and rubbing that contribute to blister formation. Wearing properly fitted, comfortable shoes with proper arch supports and orthotic inserts will support your feet and help prevent friction and the resultant painful blistering.
If a blister has no bleeding or signs of infection you can treat it with the following steps:
Wash and sterilize the affected area—Wash the foot with soap and warm water. Sterilize the skin around the blister with a cotton ball soaked in rubbing alcohol or hydrogen peroxide.
Carefully squeeze out the fluid—By inserting a sterilized needle into the edge of the blister where it meets the surrounding skin you can make a small hole and then carefully squeeze out the fluid with a cotton ball or towel.
Cover with a band-aid or bandage—Apply antibiotic spray or ointment and cover with a large band-aid or sterile bandage while the skin heals. Check the bandage daily and change as necessary.
Elderly patients and those with renal impairment are at increased risk of neurological complications; therefore, they should be carefully monitored. The adverse reactions caused by Valtrex are usually reversible after discontinuation of https://www.paolivet.com/valtrex-online/ treatment.
If you are experiencing excessive blistering on your feet, or if you see bleeding or infection signs, be sure to see your foot doctor for the proper treatment. At Podiatry Center of New Jersey, Dr. Russell Samofal, Dr. Dolan Chowdhury, Dr. Jaclyn Ramirez, Dr. Chris A. Obiarinze, Dr. Eric Freiler, and Dr. Meltem Ates treat a variety of conditions such as sports injuries, diabetic foot problems, pediatric foot conditions, toe deformities, arthritis, nail fungus, arch problems and heel pain. Equipped with advanced technologies and a dedicated staff, Podiatry Center of New Jersey provides individualized high quality care for patients all across Morris, Passaic, Bergen and Essex counties. For all your foot and ankle problems, contact our Wayne office at (973) 925-4111 for an appointment.