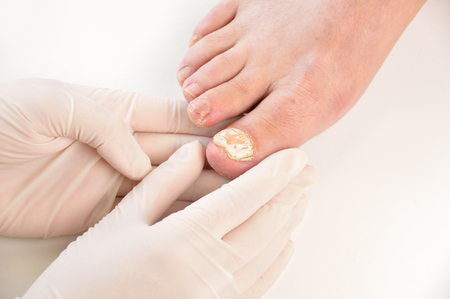 Among the most common toenail problems seen by foot doctors are ingrown and fungal toenails. In fact, an ingrown toenail can allow an infection to enter under the nail and you can have both conditions at once. Pay attention to the condition of your toenails and bring any concerns to the attention of your foot doctor to help catch these problems before they worsen and are much harder to treat.
2 of the most common toenail problems include:
Fungal toenails—Thicker, yellowing, and more brittle toenails are the usual signs of a fungal toenail infection. As the infection progresses, a foul odor will often be emitted by the fungus as it feeds on your tasty skin and toenails. Antifungal sprays and medications can be used on your feet and inside your shoes to keep fungus from proliferating. In severe cases, the toenail may need to be removed to properly fight the infection.
Ingrown toenails—These can be so painful that they prevent you from wearing shoes and walking. They are often caused by poor toenail cutting procedure: always cut your toenails practically straight across and a little long to help prevent them from getting started growing in the wrong direction.
If you have painful ingrown toenails or a smelly fungal toenail infection, your foot care professionals are ready to help. At Podiatry Center of New Jersey, Dr. Russell Samofal, Dr. Dolan Chowdhury, Dr. Jaclyn Ramirez, Dr. Chris A. Obiarinze, Dr. Eric Freiler, and Dr. Meltem Ates treat a variety of conditions such as sports injuries, diabetic foot problems, pediatric foot conditions, toe deformities, arthritis, nail fungus, arch problems, and heel pain. Equipped with advanced technologies and dedicated staff, Podiatry Center of New Jersey provides individualized high-quality care for patients all across Morris, Passaic, Bergen, and Essex counties. For all your foot and ankle problems, contact our Wayne office at (973) 925-4111 for an appointment.