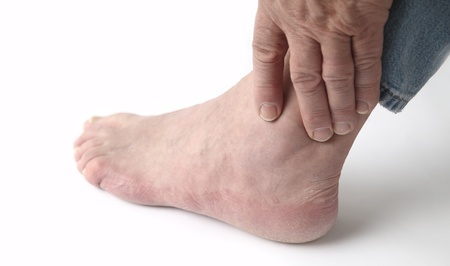 Practically everyone will suffer from some type of arthritis as they get older so it's important to realize that the often debilitating foot and ankle damage caused by arthritis can be slowed and mitigated with proper diet and exercise and by wearing properly fitted footwear with custom orthotic inserts, so be sure to contact your foot doctor.
2 types of arthritis that often cause pain, stiffness, and debilitation in the feet and ankles include the following:
Osteoarthritis—With this type of arthritis the protective cartilage that insulates your joints wears away until you have bone rubbing against bone. It's particularly damaging to the ankle and big toe joints, causing difficulty with daily activities like standing and walking. Physical therapy and medications can help relieve pain and stiffness and slow progression.
Rheumatoid arthritis—In this type of arthritis your immune system mistakes the lining of your joints (the synovium) as an intruder and it tries to remove the protective barriers. Foot soaks in warm, soapy water and foot massages will help relieve pain and stiffness. Ibuprofen or other OTC pain relievers can also help.
If you are experiencing pain and stiffness in your feet and ankles from arthritis, see your foot doctor for the proper care. At Podiatry Center of New Jersey, Dr. Russell Samofal, Dr. Dolan Chowdhury, Dr. Jaclyn Ramirez, Dr. Chris A. Obiarinze, Dr. Eric Freiler, and Dr. Meltem Ates treat a variety of conditions such as sports injuries, diabetic foot problems, pediatric foot conditions, toe deformities, arthritis, nail fungus, arch problems, and heel pain. Equipped with advanced technologies and dedicated staff, Podiatry Center of New Jersey provides individualized high-quality care for patients all across Morris, Passaic, Bergen, and Essex counties. For all your foot and ankle problems, contact our Wayne office at (973) 925-4111 for an appointment.